November 05, 2009
AAFP pact with Coke distasteful to some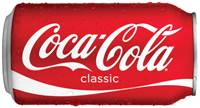 An alliance with the nation's largest soft drink maker to sponsor advice on sugar-free alternatives has spurred criticism of the American Academy of Family Physicians (AAFP).
The unlikely union kicked off last month, with the big professional society saying it will use the Coca-Cola Co.'s six-figure grant to provide recommendations to consumers on FamilyDoctor.org, the society's
consumer portal
.
"There have been articles about sugary beverages and sweeteners in many journals, such as
Journal of the American Medical Association
,
The New England Journal of Medicine
and
American Journal of Clinical Nutrition
over the last five, six years," Dr. Douglas Henley, EVP and CEO of the academy, told
MM&M
. "It's that type of information we will be pointing to."
But AAFP has taken heat for forging the one-year pact, the first agreement in its new Consumer Alliance program, which is designed to diversify the academy's funding sources beyond the pharmaceutical industry.
A group of health advocates
protested
that the Coke deal will bias the academy's recommendations, writing, "it would be naïve to think that the AAFP would risk offending its funder." Yesterday the Associated Press even suggested that some of the society's members are
quitting
over the affiliation with Coke.
AAFP contends that it will post only fact-based content addressing sugar-free alternatives to help patients make healthy choices. It intends to begin posting the information in early 2010.
Henley said the academy is in discussions with several other potential corporate sponsors and that Coke "was first out of the chute in terms of signing a contract."
He likened the sponsorship to an unrestricted educational grant: "That's why you build the firewalls, to prevent bias from entering into the equation," he said.
Nevertheless, he said, the feedback has heightened sensitivity to providing only evidence-based information.
"The concerns expressed simply reflect the seriousness by which we take our historical position about editorial independence relative to content development," said Henley. "We hope people will hold us accountable for the content and simply not rush to judgment."
Scroll down to see the next article