August 12, 2010
Abbott launches website, widget for psoriasis awareness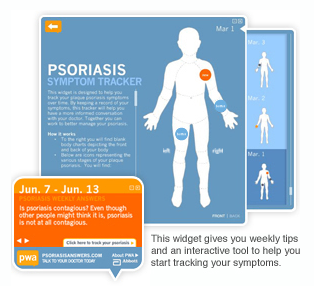 Abbott launched a psoriasis educational website and a widget for download, the latter offering weekly tips and facts delivered to the user's personal desktop.
The widget, which can be downloaded at PsoriasisAnswers.com, also has a tracker that patients and caregivers can use to record and organize symptoms. Prior to a doctor's appointment, the tracker can be printed out and used as an aid to conversation between a patient and doctor, according to a release on the launch. The website and the widget are "completely unbranded," according to Michelle Johnson, an Abbott spokesperson.
Other tools, such as a "psoriasis answers kit" and Q&A cards, can be received by mail after filling out a survey which asks patients to name what drugs they are taking, what treatments they've previously used, and how satisfied they are with the results.
The website, created by NYC-based Kirshenbaum Bond Senecal + Partners (or KBS+P), also features a testimonial video with Felicia Williams, a school teacher and psoriasis patient. Additionally, visitors to the website can take a survey that identifies behaviors associated with the disease, and cites statistics (from the National Psoriasis Foundation) based on survey responses.
A separate Abbott website, PsoriasisUncovered.com, offers similar information about the disease, but doesn't include many of the tools, or any testimonials, that are included on the PsoriasisAnswers.com site. That site is intended for patients outside of the US, noted Johnson.
According to the website, some 125 million people worldwide suffer from psoriasis. Abbott is currently in phase 3 with an experimental drug for the disease, called briakinumab or ABT-874. Briakinumab is "on track for regulatory submission this summer," said Johnson. Humira, a blockbuster and Abbott's best selling product, is indicated for moderate to severe forms of psoriasis, among several other indications.
Scroll down to see the next article