January 05, 2010
Abbott's next step for Niaspan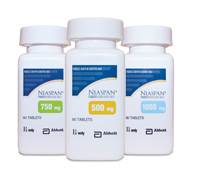 Abbott Labs' cholesterol drug Niaspan is growing prescription share nicely after a clinical trial highlighted its potential as part of a one-two punch in reducing plaque. Now, the company says, it is considering how best to capitalize on the data.
The study, known as ARBITER 6-HALTS, looked at the effects of treatment with Niaspan plus a statin to reduce plaque build-up, or atherosclerosis. Niaspan, an extended-release form of niacin, is indicated to raise HDL cholesterol and lower LDL cholesterol and triglycerides, but is not approved to promote regression of atherosclerosis in combination with a statin.
That could mean Abbott's options for touting results to patients are limited at present. "Abbott is not promoting the HALTS data as these data are not in the Niaspan label," said a spokesperson. "At this point, we're reviewing the data and determining what our next steps might be."
The ability to add a discussion of HALTS study results to Niaspan's label could boost US sales of the drug, which totaled $601 million through the first nine months of 2009, a 6% increase over the first nine months of 2008.
Niaspan, which is indicated to slow atherosclerosis in combination with an older class of lipid medications known as bile acid binding resins, is also one component of another Abbott drug, Simcor. This product combines extended-release niacin with the statin simvastatin, the active ingredient in Merck's off-patent drug Zocor and one of the statins given to subjects in the HALTS research.
On the professional side, drug company sales reps can distribute reprints of journal articles on off-label uses for drugs, as long as they refrain from discussing the findings during meetings with doctors, according to guidance issued by FDA in 2008. In response to a question about its sales-force activity, Abbott declined to comment.
While Abbott ponders whether to apply for formal approval to expand the Niaspan label, medical practice may already be changing. As previously reported in MM&M, new prescriptions for Niaspan (including those for new patients, switches and add-ons) rose by 31%, when comparing prescribing trends for the week ending Nov. 13 (just prior to appearance of the study in the New England Journal of Medicine) to Rx trends for the week ending Dec. 11, according to SDI.
Companies tend to initiate new clinical trials to evolve the profile of marketed drugs. Once cleared by regulators, labeling changes can prompt changes in strategy or even new marketing campaigns.
After it received approval to slow regression of atherosclerosis, based on a trial called METEOR, Abbott's competitor in the cardiovascular space AstraZeneca launched "Us Against Athero," a campaign which used branded and unbranded advertising to communicate statin drug Crestor's ability to counter atherosclerosis and raise awareness of the disease. The claim was added to the brand's LDL-lowering, HDL-raising message.
And last year AstraZeneca applied for approval to broaden Crestor's label again, this time based on a study called JUPITER, to reduce the risk of cardiovascular events among patients with normal cholesterol levels and elevated C-reactive protein levels. In December, an FDA advisory panel voted 12 yes, four no, and one abstention to allow the new indication.
A supplemental new indication would bring Crestor's label more in line with that of rival statin Lipitor, Pfizer's best-selling drug, which is already approved to prevent heart attacks and strokes. In 2004, Pfizer honed its sales message to emphasize more aggressive cholesterol targets following the National Cholesterol Education Program's statement (not a guideline) that those at very high cardiovascular risk "consider" an LDL-C less than 70 mg./dl. Prior to that, the panel had recommended those with established vascular disease or type II diabetes to aim for below 100.
In the case of HALTS, the study found that Niaspan did a better job than Merck's ezetimibe at lessening atherosclerosis. Because atherosclerosis can heighten risk of heart attacks, the trial cast HDL-raising as a favorable strategy in the fight against cardiovascular disease.
Abbott has taken steps of late to enhance patient education. Last November, two days prior to the publication of HALTS, the company launched two unbranded websites, knowyourhdl.com and knowyourtrigs.com, to raise awareness of HDL and triglycerides. These two "commonly overlooked" variables are, in fact, risk factors for heart disease, read a company statement.
Scroll down to see the next article