March 07, 2011
Ad for platelet-inhibition test pushes envelope, cardiologist asserts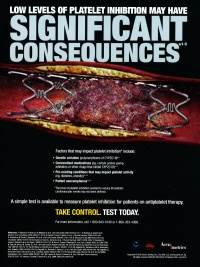 Is a medical journal ad for platelet-inhibition testing backed up by evidence that treatment guided by such testing can reduce the risk of clot formation?
No, writes Yale cardiologist Harlan Krumholz. Yet, in a recent
online commentary
, Krumholz argues that the ad, supported by Eli Lilly and Daiichi Sankyo along with testing firm Accumetrics, "clearly implies that testing for platelet inhibition is a strategy that reduces the risk for stent thrombosis."
The ad has appeared in the journals
Circulation
,
American
Journal of Cardiology
and
Cardiology
and is still running, said a Daiichi Sankyo spokesperson. Lilly, which co-markets anti-platelet drug Effient (prasugrel) with Daiichi Sankyo, says the objective of the piece is "to create an awareness among physicians that platelet function testing is available," spokesperson Tammy Hull told
MM&M
by e-mail.
Capital letters in the headline announce, "Low levels of platelet inhibition may have significant consequences," right above an image of a clot in a stent. Krumholz contends that the copy and visual could lead some clinicians to use a test to select a drug that is successfully inhibiting platelet aggregation, thinking that using a drug that is better at platelet inhibition can reduce risk for events like stent clot or heart attack, even though the evidence to make such a connection does not exist.
"No study has shown that a strategy guided by platelet aggregation testing produces better outcomes for patients," he wrote on
CardioExchange
, an online community for cardiac care professionals from
The New England Journal of Medicine
and
Journal Watch
which is edited by Krumholz. The fact that there is a lack of evidence to recommend either routine genetic or platelet function testing does not appear in the ad and should, he argued.
The ad makes clear that several factors may influence clot formation, noted Hull, and "platelet function testing can be an important tool for physicians." Below a bulleted list of those factors appears the copy, "A simple test is available to measure platelet inhibition for patients on antiplatelet therapy."
Cardiologist Paul Gurbel, who directs the Sinai Center for Thrombosis Research at Sinai Hospital of Baltimore and teaches Johns Hopkins University School of Medicine, said he agrees with Krumholz that routine use of platelet-function measurements in patients with cardiovascular disease cannot be recommended at this time. In fact, in a white paper published in the fall in Journal of the American College of Cardiology in which Gurbel was the senior author, it was concluded that routine testing would require a demonstration in large-scale trials that alteration of therapy based on these measurements improves outcomes.

But he and co-authors also summarized a large body of data on the link between post-PCI ischemic risk and high platelet function and noted, "Currently, platelet function testing may be considered in determining an antiplatelet strategy in patients with a history of stent thrombosis and in patients prior to undergoing high-risk PCI."

"It is my opinion based on the evidence in thousands of patients that we should be sure that platelet function is below the risk cutpoint in the high-risk patient before they undergo stenting," Gurbel told MM&M by e-mail. "Patients discharged from the hospital with high platelet reactivity have shown to have a high risk for short and long-term ischemic event occurrence. Among all the variables associated with risk, the presence of high platelet reactivity is the most important in the stented patient."
He concluded: "Those who have had stent thromboses while compliant with antiplatelet therapy should definitely undergo platelet function testing with appropriate adjustment in therapy. Finally, I don't think you need a large-scale clinical trial showing the efficacy of platelet-function testing before considering using platelet-function testing on high-risk patients."
Gurbel has received research grants from Accumetrics, which makes one of the most commonly used tests designed to measure the effect of anti-platelet drugs, VerifyNow.
Krumholz countered that the ad seems to go beyond even what Gurbel is proposing and is at odds with a
statement by the American College of Cardiology
which says that whether it's helpful to use platelet activity for guidance is still being studied. "I lamented that the ad seemed to be pushing physicians in a different direction than the ACC statement," he told
MM&M
. "The point is that we lack strong evidence that such a strategy of using the testing to guide therapy will improve outcomes."
Coincidentally, a study involving platelet reactivity testing was just terminated by sponsors Eli Lilly and Daiichi Sankyo after it became clear that the trial was not going to show any therapeutic impact from the testing. And a recent JAMA study (abstract) evaluating standard- vs. high-dose clopidogrel (Plavix) based on platelet-function testing after PCI showed that treatment guided by the testing did not reduce incidence of death. Both trials used the VerifyNow assay.
Platelet-guided therapy is an "attractive" concept, wrote Brigham and Women's Hospital cardiologist David Faxon recently in a commentary for another cardiac-care website,
Cardiology Today
. "At the moment, however, benefit for this strategy remains to be shown, and more trials are clearly needed before this strategy can be adopted into practice."
Scroll down to see the next article