February 12, 2014
Advocates cry foul over 'female Viagra' delay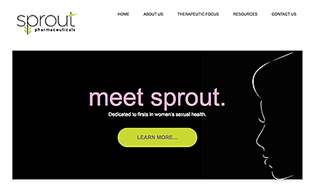 A drug that's been hailed as a female Viagra, flibanserin, hit a setback this week after its manufacturer said the FDA requested additional studies, news which spurred harsh criticism from a number of groups that support approval of what would be the first sexual disorder drug for women.
The FDA, according to the drug's developer Sprout Pharmaceuticals, requested the two additional Phase-I clinical trials in order to evaluate drug interactions and also identify if the drug impairs driving ability.
The announcement comes after Sprout said in December that it had received an FDA Complete Response Letter (CRL), in which the regulator, according to the company, refused to accept the application in its current form and requested more information. The firm said at the time that it would appeal that decision.
"When it comes to approved drugs for male sexual dysfunction, the FDA says yes with more limited research and serious side effects," said Terry O'Neill, president of the National Organization for Women (NOW), "but when it comes to women, their go-slow tactics are preventing us from having access to a treatment option where we make the decision in consultation with our healthcare provider."
Another organization, the National Consumers League (NCL), also suggested "that a double standard exists for evaluating drugs to treat women for low sexual desire," said Sally Greenberg, the group's executive director, adding, "we will hope to see an approved medical treatment for HSDD (hypoactive sexual desire disorder) for women sometime in the coming year."
NCL is described as a consumer organization that "provides the consumer's perspective on concerns including child labor, privacy, food safety and medication information," according to its website.
FDA spokesperson Andrea Fisher told MM&M in an e-mail: "FDA maintains the highest vigilance to protect and advance the health of women, and we are committed to helping companies develop safe and effective treatments for female sexual dysfunction."
Cindy Whitehead, president and COO of Sprout, issued the following statement regarding the ruling: "We are encouraged by FDA's response and view it as a significant step towards the approval of filbanserin. We are confident that further supporting the predictable risk/benefit profile of filbanserin will result in women having the first ever treatment for the most common form of female sexual dysfunction."
The drugmaker announced it will resubmit an NDA in the third quarter for the once-daily treatment.
Sprout picked up flibanserin in 2011 after Boehringer Ingelheim discontinued development following a negative ruling by an FDA advisory panel in 2010.
Scroll down to see the next article