January 09, 2009
Alli gets celebrity spokeswoman in Judd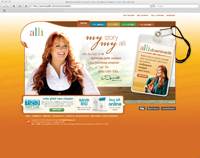 GlaxoSmithKline has signed country singer Wynonna Judd to serve as the face of its OTC weight loss drug Alli.

Judd appears in TV and print ads launching this month, and the story of her battle with weight features in a section of the brand's website at myalli.com, where fans can download desktop wallpaper or recipes and enter to win a trip for two to Nashville for a private concert with her.

Advertising was produced by Arnold, while interactive is being handled by IMC2.

In the TV ad, Judd says Alli has given her more "balance" and extra energy with her kids. She addresses the typically modest weight loss benefits of the drug, saying: "It's not so much about the pounds for me – I'm so much more than a number on a scale." And she hammers home the drug's safety, saying: "Absolutely the most important reason I chose Alli was because it's FDA approved. I can't sit here and tell other people to take something that's not safe."

Judd is following in her mom's footsteps with her stint talking up the drug. Naomi Judd appeared in a January episode of Sharing Miracles, the half-hour TV show produced by PhRMA, talking about her debilitating bout with Hepatitis C.
Scroll down to see the next article