August 23, 2007
AMA launches health insurance fix blitz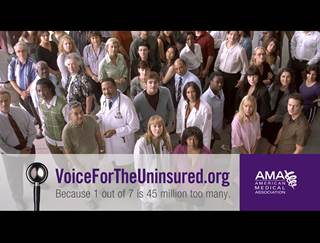 The American Medical Association is launching a three-year, multi-million dollar advertising and PR campaign in a bid to influence the health insurance debate in Washington going into an election year.

The "Voice for the Uninsured" campaign, launched today with a press conference and print ads in the New York Times and USA Today, will promote the AMA's plan to cover uninsured Americans and urge Washington to speed reforms. The group says its plan could ensure that around 95% of Americans are covered, through a mix of tax credits for lower-income consumers, greater choice of insurance plans and making insurance mandatory.

The campaign will roll out in three phases. For the first year, the focus will be on engaging politicians and voters in Washington, DC, and the early primary states – Iowa, New Hampshire and South Carolina among them. TV, print, radio and online ads targeting those audiences will launch on Labor Day, along with ads on pharmacy bags, billboards and transit stations. In September and December, the Washington, DC, Metro Center station will be blanketed with 100 ads, and the group has already sponsored a day at the Iowa State Fair, a key presidential primary destination, and had a presence at the Iowa Straw Poll. The AMA has also launched a Web site, voicefortheuninsured.org, and is pushing for renewal of the Children's Health Insurance Program.
Next year, the campaign will expand nationally, with a focus on promoting healthcare as a decisive factor in elections. In 2009, the campaign will urge Congress to pass legislation covering the uninsured.

Print and TV ads are being executed by Chicago ad agency Lou Beres & Associates. Lincoln Strategies, a Carlisle, MA-based public affairs shop, is assisting the group with logistical support in key primary states.

Scroll down to see the next article