January 02, 2014
Amgen bone-builder bests older meds: trial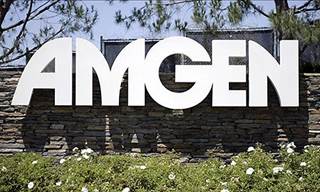 Amgen unveiled mid-stage results of its investigational osteoporosis therapy romosozumab yesterday. And the findings suggest the injectable drug, which recently entered Phase III, has better bone-building efficacy than the dominant branded biologic, Eli Lilly synthetic hormone treatment Forteo.
Phase-II data among postmenopausal women with low bone mineral density (BMD) show that, after a year of treatment, a greater increase in spinal BMD was seen with romosozumab (11.3%) than with Forteo (7.1%) or Merck's Fosamax (4.1%). Forteo and Fosamax were used as comparators in an "exploratory analysis," Amgen said. Significant increases were also observed vs. placebo.
BMD gains for the Amgen drug were also seen in the hip region: romosozumab (4.1%), Fosamax (1.9%) and Forteo (1.3%).
The findings on romosozumab, code-named AMG-785, "provide important insight into this medicine being developed for women with postmenopausal osteoporosis at high risk for fractures," the big biotech firm said in a statement.
They also seem in line with a thesis advanced last year by market research firm Decision Resources. Forteo (teriparatide) has the strongest clinical profile among key marketed products, Decision Resources said, while Fosamax (alendronate), now available generically, is the patient share leader. The market-research group predicted romosozumab could displace Forteo as the new therapy standard bearer by 2021, following an expected approval date in 2017.
For one thing, Forteo is a daily injection. The bigger increases with romosozumab were found when patients took a monthly injection of 210mg.
But whether Amgen's challenger can displace Forteo seems somewhat dependent on whether the med's bone-building numbers translate into reduced fracture risk, something Amgen is studying. One Phase III trial evaluating the med's potential to reduce fracture risk reads out in 2015. (Another, evaluating safety and efficacy, is expected to finish in 2017.)
Greater reduction in the risk of vertebral fracture is one "of the greatest unmet needs in [osteoporosis] and osteopenia," according to US and European managed care organizations Decision Resources surveyed in April 2013. The researcher also noted that MCO pharmacy directors would be "particularly receptive" to new therapies that offer 50% better reduction in "the risk of vertebral fractures over currently available therapies."
Romosozumab functions by restraining the protein sclerostin and in doing so, according to Amgen, increases bone formation and decreases bone breakdown.
If approved, the drug should fit nicely into the Thousand Oaks, CA-based drugmaker's portfolio. Romosozumab is intended for postmenopausal women with osteoporosis, giving it a broader patient base than its denosumab formulations Prolia and Xgeva. Prolia is indicated for use in patients with a high risk of fractures, and who have used a previous osetoporosis medicine with no results, and Xgeva for patients with bone cancer.
While romosozumab may stand to bolster Amgen's offerings, its ascension could translate into a significant loss for Lilly. In 2012, Forteo generated $1.1 billion in global sales, up 21% from the year prior.
For the first nine months of 2013, Forteo brought in $885 million, a 6% hike from the first nine months of 2012, buoyed by increased sales in Japan, where the drug was approved in 2011.
Scroll down to see the next article