September 22, 2010
Amgen, Pfizer and Project Runway's Tim Gunn offer psoriasis style tips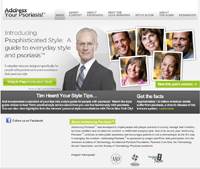 Amgen and Pfizer teamed up with fashion guru Tim Gunn for five videos offering style tips – or 'psophisticated styles' – for psoriasis patients. The videos resemble reality television shows and feature style consultations with the five winners of the Addressing Psoriasis contest launched last year.
The videos are hosted by Gunn and dermatologist Susan Taylor, and include candid shots of the winners receiving suggestions about fabric, colors and other sartorial tips for psoriasis patients. Porter Novelli is handling PR for the effort, and also serves as the Amgen/Pfizer joint public relations AOR on Enbrel, a top-selling psoriasis treatment. Videos and other information about the contest winners are hosted at AddressPsoriasis.com.
Sarah Rockwell, an Amgen spokesperson, said the Addressing Psoriasis contest began in March of 2009, with 2010 contest winners receiving a trip to New York City for one-on-one fashion consultations with Gunn in July. Rockwell declined to say which agency created the "disease awareness" website, which is unbranded, although there is a link to Enbrel.com under the "Resources" tab.
Amgen and Pfizer are not the only pharmaceutical companies to tap Project Runway stars for disease awareness. Last September, Merck launched an HIV/AIDS video series staring Jack Mackenroth, a designer and Project Runway competitor.
While Enbrel (etanercept injection) remains a category topper for the treatment of psoriasis, sales declined by 2% during the second quarter of 2010, to $877 million, according to an Amgen 2Q report. Abbott's Humira, the second best seller in the category, grew its sales by 9.6% during the same period (2Q 2010), to $696 million, according to an Abbott 2Q report.
Abbott launched a "completely unbranded" psoriasis website of its own in August, Michelle Johnson told MM&M. According to a recent Decision Resources report, Centocor Ortho Biotech's Stelara, approved for the treatment of psoriasis by FDA a year ago, and Humira will continue to cut into Enbrel sales, with Humira overtaking Enbrel as the category leader by 2011. "Since our analysis in 2009, dermatologists' reported percentage of Humira use in first line of therapy has increased substantially – from 22% to 37%," said Decision Resources therapeutic area director Madhuri Borde, in a statement. Borde added that "Stelara's uptake will affect Enbrel usage to a greater extent than Humira's," according to the report.
Scroll down to see the next article