December 20, 2012
Amgen pleads guilty, takes CIA in $762 million False Claims Act case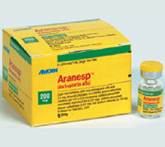 Amgen "marketed the spread" between the price practices pay for Aranesp and that patients pay as a means of driving sales—to the point of having speakers tell docs that they could make a million more each year by prescribing the Amgen anemia drug over its competitor, Procrit.
That was one of the revelations to come out of the company's $762 million settlement of a False Claims Act case, the biggest involving a biotech to date. Amgen pled guilty to illegally marketing Aranesp for off-label uses and will pay $150 million in criminal penalties for that sin. The company will pay another $612 million to resolve charges that it bilked the government by causing false claims to be submitted to Medicare, Medicaid and other programs for Aranesp as well as Enbrel and Neulasta. And it will enter a five-year Corporate Integrity Agreement that the government said will "increase accountability of individuals and board members," as well as strengthen transparency and compliance.
The government built its case on testimony from and evidence gathered surreptitiously by whistleblowers—in particular, Milwaukee rep Jill Osiecki, who wore a wire to sales meetings at the behest of HHS investigators. Osiecki told the New York Times that when she joined the firm in 1990, it had "good science, good products, strong ethics," but that corporate culture changed for the worse around 2000, "when new management came in and Aranesp was approved, setting up a fierce marketing battle with Johnson & Johnson and its rival anemia drug, Procrit," the Times reported. That was the year that Kevin Sharer took over as CEO of the company. He was succeeded in that role, and subsequently as chairman, this year by Robert Bradaway, and is due to retire from the board of directors at the end of the year.
Osiecki told the Times that reps were instructed to make "homemade bread" presentations to docs, so that the spreadsheets couldn't be pinned on the company, and advised not to leave presentations behind after events. Disgusted, she contacted HHS's Office of the Inspector General in August 2004 to report these practices. HHS OIG asked her to wear a wire, and she did, letting the department monitor 13 events over the course of 15 months. She said she was fired in 2005 after revealing that she had held on to a potentially incriminating voice mail message.
"This sends a powerful message to pharma companies," said US Attorney for the Western District of Washington Jenny Durkan. "You must not put profits ahead of patients' health and doctors' trust. Drugs should be prescribed because they make people better, not because they make companies money. The coordination by our office, the US Attorney's offices in the Eastern District of New York and Massachusetts, and Main Justice shows that there is no corner of the country in which these actors can hide."
In other False Claims Act settlement news,
Sanofi will pay
$109 million to settle charges that it plied docs with "lavish dinners" and samples of knee injection Hyalgan to get them to buy and write the drug. The company was also charged with counting samples as sales in average sales price reports for the product, thereby overcharging government programs for it.
Scroll down to see the next article