August 29, 2008
Amgen to unbundle anemia medications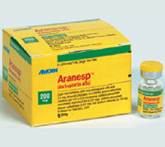 Ongoing criticism over Amgen's anemia drug marketing practices catalyzed a change in the way select erythropoiesis-stimulating agents (ESAs) will be sold.
On August 28, the New York Times reported that Amgen would no longer offer rebates on its flagship anemia drug, Aranesp, to oncology clinics. Additionally, Amgen has ended so-called "bundling" practices that incentivized the purchase of Aranesp alongside other white blood cell boosters, according to the article.
Trish Hawkins, a spokesperson for Amgen, told MM&M that the company will restructure its oncology clinic contract – previously known as the Amgen Portfolio Contract (APC) – to provide separate, unbundled contracts for its suite of ESA products, including Aranesp (darbepoetin alfa), Neulasta (pegfilgrastim) and Neupogen (filgrastim). Hawkins noted that customers have always been free to purchase Amgen medications separately. The new contracts are effective Oct. 1, 2008.
"Questions about the previous APC contract raised the misperception that Amgen's contract structures could have created incentives for physicians to prescribe more ESAs. From multiple data sources presented to the FDA at the most recent [Oncologic Drugs Advisory Committee] hearing, Amgen did not find evidence to support the hypothesis. Nevertheless, [Amgen] believes these contrasting changes, along with other modifications, help to clear up those possible misperceptions and ensure that discussion of our products continues to be focused on their clinical profiles and what is in the best interest of patients," explained Hawkins in an email. 
Two separate Congressional committees – the House Committee on Energy and Commerce, and the Senate Committee on Finance – have investigated Amgen's rebate practices with regards to Aranesp.  Discourse on marketing practices and rebates for Amgen's ESA products, as well as Johnson & Johnson's Procrit (epoetin alfa), was heightened by safety concerns and off-label prescribing patterns.
Amgen has not marketed ESAs directly to consumers. J&J was reprimanded by House Committee on Energy and Commerce chairman John Dingell (D-MI) last spring, who expressed concern that "J&J may have used misleading DTC television and print advertisements…to help fuel excessive and dangerous off-label use of [Procrit], particularly in connection with unsubstantiated 'quality of life' claims." FDA added stronger warning labels to both Aranesp and Procrit in July, in response to reports of heart attack, stroke and death at high doses in cancer patients. Anemia commonly occurs as a side effect of chemotherapy.
Clinics will still be able to get some relief on the price of Arenesp, according to Hawkins, although no "back-end rebates" will be available. "All discounts for Aranesp to clinics are being provided as an invoice discount," said Hawkins.
Scroll down to see the next article