October 26, 2010
Amid election rancor, pols unite to push prostate test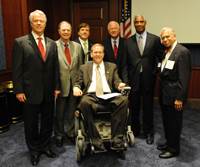 In an ugly election year, one medical society has managed to forge bipartisan unity around legislation promoting screening for prostate cancer.
The American Urological Association (AUA), together with the National Football League, is promoting the Prostate Research, Outreach, Screening, Testing, Access and Treatment Effectiveness (or PROSTATE) Act of 2010. They've already gotten five senators and a dozen representatives to pledge their support for the campaign. Co-sponsors of the bill, introduced last month, include Rep. Edolphus Towns, a Brooklyn Democrat who sits on the Energy and Commerce Committee, and Sens. George Voinovich (R-OH) and John Tester (D-MT).
The legislative push comes as the society takes its Know Your Stats into its second year, with a message urging men 40 and up to talk to their doctors about the disease. Last year, the society lowered the age at which it recommended baseline Prostate Specific Antigen (PSA) testing to 40 from 50. PSA tests are controversial – the American Academy of Family Physicians says the jury's still out on their effectiveness, while the American Cancer Society does not recommend the test for men of average risk, instead recommending that those 50 and up consult their doctor about it. The Know Your Stats campaign suggests that men 40 and up talk to their doctor about getting tested.
"No one would argue that the PSA is an ideal test," says the AUA's Beth Kosiak. "There's a tremendous amount of confusion out there surrounding prostate cancer and all the different directives about what's best. We're trying to cut through some of that and say, Okay, if you can get to your doctor and discuss your original risk, that's what's best for you."
The campaign, executed by Zeno Group, features a website (
KnowYourStats.org
) that saw traffic rise more than fivefold after a Super Bowl media blitz, with NFL Hall of Famers doing more than 150 media interviews and a series of PSAs for the campaign. All told, the effort has prompted one in four fans to report increased awareness of the disease, said Zeno Group. This year, the campaign will put on more than 500 events at local hospitals and community centers in more than 300 cities while running a series of PSAs promoting awareness. Members of the campaign's "Team Haynes," named after Hall of Famer and prostate cancer survivor Mike Haynes (pictured with legislators), include John Madden, Steve Young and Dan Marino.
Other lawmakers signing on to "Team Haynes" include Reps. Michael Acuri (D-NY), Elijah Cummings (D-MD), Jim Langevin (D-RI, Jim Marshall (D-GA), Paul Broun (R-GA), Geoff Davis (R-GA), John Fleming (R-GA), Christopher Lee (R-NY), Bill Posey (R-FL), Phil Roe, MD (R-TN) and Ed Royce (R-CA), along with Sens. Tim Johnson (D-SD), Saxby Chambliss (R-GA) and Richard Shelby (R-AL).
The legislation, which has been introduced in the Senate and referred to the Committee on Health, Labor, Education and Pensions, would establish an interagency task force under the Department of Veterans Affairs to align federal research, awareness and care efforts.
Scroll down to see the next article