September 07, 2010
AMM reveals Doctors' Choice Awards finalists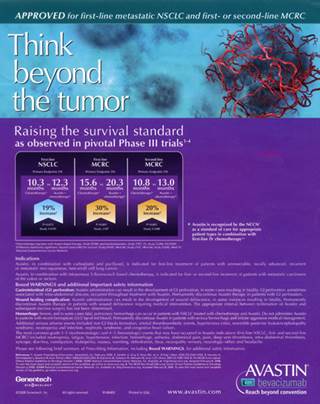 In what could be seen as a positive sign of the times, the Association of Medical Media (AMM) announced the finalists for its 2010 Doctors' Choice Awards, which recognizes the best pharmaceutical journal ads, as chosen by physicians. The AMM established the awards in 2003, but did not give the awards last year, due to budgetary concerns.
This year, however, the awards are on, with one winner selected in each of the 14 therapeutic specialties and six physician assistant/nurse practitioner categories, plus one overall winner. The format for the awards this year has been changed from a luncheon to a networking-friendly cocktail reception, to be held on September 16 at Comix Comedy Club in New York City.
The three finalists for the overall highest scoring ads, according to an AMM release, are ads for Roche/Genentech's Avastin, created by Harrison and Star; Forest Laboratories' Lexapro, created by ghg (Grey Healthcare Group); and Roche/Genentech/Biogen Idec's Rituxan, created by AbelsonTaylor. For a listing of the finalists in each of the therapeutic specialties, see the AMM's release.
Advertisements were judged on their "ability to communicate clearly and quickly, help with clinical decisions, prompt seeking more information or re-examining treatment, generate interest, add to information provided by company sales representatives and underscore the value of the product prescribed," according to the release. The study was conducted by Readex Research, and drew more than 4,600 responses from doctors, their assistants, and nurse practitioners. The 325 ads that were judged represent the 86 most widely-advertised products in 2009, according to the release.
The Doctors' Choice Awards reception will be emceed by Vince Parry, founder and leader of Y Brand, inVentiv Health's branding group. Parry has conducted branding initiatives for some of the biggest pharmaceutical companies, including Johnson & Johnson, Merck, Allergan, Lilly and Roche, according to the AMM's website.
Scroll down to see the next article