April 09, 2012
Analyst cuts Lucentis forecast by $1 billion
Genentech's Lucentis is likely to lose about $1 billion in sales due to competition from an upstart drug, combined with government mandates to use sister drug Avastin, an analyst predicts.
Within four years, Lucentis's share in wet acute macular degeneration (AMD) and diabetic macular edema (DME), both in the US and in the EU, where Novartis markets the drug, will be surpassed by Regeneron's Eylea, Leerink Swann analyst Seamus Fernandez wrote in a note to investors Monday. Based on surveys of eye specialists, Fernandez also reduced his 2018 sales forecast for the VEGF inhibitor, from $2.65 billion to $1.65 billion.
Eylea was approved in November for AMD and launched that month with a commercial team of about 125 people trained to educate the 2,500 US retinal specialists in use of the new, more convenient option for treating macular degeneration. (The drug is not yet available in Europe.)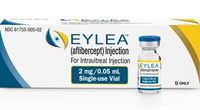 Since then, Regeneron has enjoyed an encouraging start: Eylea had net sales of $24.8 million from launch on November 21 through December 31, 2011. The company forecasted 2012 US product sales of $250 million to $300 million. Meanwhile, Roche said in a recent earnings report that it expects Lucentis sales to be flat to moderately down in 2012 due to competitive pressures from the Eylea launch.
Regeneron's VEGF inhibition drug requires patients to visit their retinologists less frequently for injections than Lucentis— following three initial monthly injections, it's dosed every eight weeks vs. monthly Lucentis.
This difference has not been lost on clinicians. Of 40 US retinologists polled, 65% have already switched patients from Lucentis or Avastin, Leerink found. Of patients where follow-up has occurred, the analysts found, about 70% are unchanged and about 30% are either modestly or meaningfully improved.
Surveys showed EU retinologists are similarly inclined toward using Eylea. On average, the 30 EU physicians polled by Leerink use Lucentis in 64% of wet AMD patients and Avastin in 30%, Leerink found. With the availability of Eylea, Lucentis' AMD share will dip 50%, the physicians predicted. In DME, respondents use Lucentis in 44% and, despite lack of FDA approval for treating that condition, the specialists said they expect Eylea to erode Lucentis DME share by a third to 29%.
In the US, Eylea is also lighter on insurer's pocketbooks, priced at $1,850 per injection, or $16,000/year. vs. $1,950 per injection for Lucentis, a full year's course of which would run about $23,400. But Genentech pointed out that the average cost for a year of Lucentis treatment in the US typically ranges from $9,750 to $15,600, depending on the number of injections a patient receives. For wet AMD, Genentech currently estimates that in the first year of treatment, the average patient receives around eight injections and then approximately five injections in the second year, the company said.
However, Lucentis maintains an advantage: approvals in AMD, DME (potential launch in 2H12) and macular edema secondary to retinal vein occlusion (RVO). It's also approved in more than 100 countries, including China, and price caps in several major markets make Lucentis difficult to displace, Fernandez observed.
Yet, "[Survey results] suggests to us that Lucentis' first-to-market advantage may simply be limited to reimbursement," Fernandez wrote Monday, "as physicians see little clinical differentiation between the two drugs other than Eylea's modest but apparently meaningful dosing advantage.
Lucentis has also been hampered by doctors' off-label use of Avastin, an older drug which costs only about $50 per injection. The National Institutes of Health sponsored a comparative study which found that the two drugs had equal effects on AMD patients' visual acuity. Genentech countered with its own analysis of Medicare patients suggesting a higher mortality rate among AMD patients treated with Avastin.
VEGF inhibitor use will expand from 41% to 59% in three years, the survey respondents said, and Lucentis and Avastin are expected to gain share. But the expectations for Eylea, combined with more government mandated use of Avastin, are likely to pressure Genentech's Lucentis for years to come, the Leerink report noted.
Scroll down to see the next article