November 07, 2013
Analysts expect Eylea uptick to continue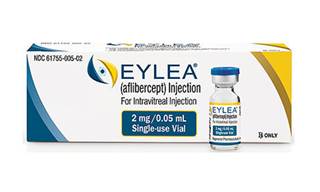 Regeneron continues the outward push for its wet AMD/central retinal vein occlusion (CRVO) drug Eylea, this time with an EU filing for a diabetic macular edema indication. Bayer, which has partnered with Regeneron in the EU, put in the paperwork.
The drug has been burning its way through the markets, to the extent that it has left Roche's onetime leader Lucentis searching for safe ground, such as dry age-related macular degeneration.
A team of Credit Suisse analysts issued a Nov. 6 assessment of the ophthalmologic space in which they project Regeneron still has plenty of potential. In addition to expecting that a diabetic macular edema (DME) approval will further lift the drug's sales, the analyst report provides some additional support for the drug's continued popularity.
Among them: that doctors will migrate patients from Avastin, with 58% of these drug-transitioning physicians saying they will choose Eylea over the next two years, compared with 43% who said they expect to opt for Lucentis. Avastin is expected to lose out because the drug is considered a compounded drug in the wet AMD space, unlike the more expensive Eylea and Lucentis. A compounded medication triggered a deadly meningitis outbreak in 2012, and triggered new rules for all compounded medications, making Avastin a cheaper, but more onerous drug to provide to patients.
Also supporting the analysts' positive outlook for Eylea is their poll question, which showed that their pool of surveyed doctors like Eylea's overall profile: 38% said they considered Eylea "somewhat better" than Lucentis, 13% rated it "significantly better," and 50% found no significant difference between the two.
The analysts note that the majority of the polled physicians expect that a DME Eylea indication would affect their treatment plans, but the numbers also show a holding pattern of sorts for DME Lucentis patients: doctors told Credit Suisse 26% of their Lucentis prescriptions are for DME patients, 13% for CRVO and 57% for wet AMD.
While this does not mean Eylea would wipe Lucentis from the map, Eylea's perceived dominance shows competitors will have to fight for mindshare: 64% of polled doctors, for example, told the Credit Suisse team they did not know about Ophthotech's pipeline wet-AMD drug Fovista or Allergan's experimental DARPin therapy.
Analysts say Fovista's potential offering is its ability to be combined with an anti-VEGF therapy, while Allergan's possible contender could require quarterly dosing, compared with Eylea's every-other-month schedule. These advantages could be significant in that around 76% of polled doctors said they would choose a wet-AMD medication that offered a less-intense dosing schedule with comparable efficacy.
Scroll down to see the next article