September 12, 2013
Analysts haven't soured on Yervoy, despite miss in prostate cancer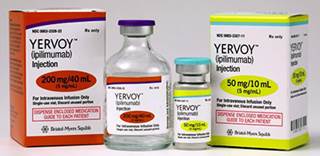 Bristol-Myers Squibb cancer drug Yervoy failed to show a statistically significant impact on overall survival in patients with prostate cancer who have previously received chemo. The company said in its Phase III clinical trial announcement Thursday that although the drug failed to meet its primary goal, it did show some benefits, and that the data indicated "greater activity" in patients whose castration-resistant prostate cancer was less advanced.
ISI Group analyst Mark Schoenebaum wrote in a Thursday research note that even though the data will "probably not support an FDA approval in this indication," he is among those analysts who have not soured on the potential of the drug, originally approved for use in melanoma, in this other tumor type. The Bernstein analyst Tim Anderson is another.
The overall takeaway from the data, Schoenebaum noted, is that the immunotherapy approach to cancer has potential in the prostate cancer arena. That thesis still applies to both Yervoy and the drug maker's experimental PD-1 nivolumab, a treatment which has garnered a lot of attention among BMS investors, Anderson wrote in his own investor note on Thursday.
Anderson added that the impact Yervoy appears to have on less-advanced patients is worth watching because the company is also conducting a Phase III trial among patients who have not yet undergone chemo. Thursday's data, he wrote, is just part of a slew of Yervoy trials which are in progress, among which one is looking at what happens when the drug is combined with Zytiga.
The combination approach is an important storyline, because experts are waiting to see if Yervoy—which has a side effect profile that has some uncomfortable—can be part of a "backbone alongside PD1 in non-melanoma tumor types." This Yervoy-plus thread is one the analyst addressed before. In a September 2 research note, Anderson wrote that Yervoy's ability to work across cancers is a focal point for investors, because the ability to function cross-category would be a boost for the company's oncology franchise.
Scroll down to see the next article