December 21, 2009
ARBITER leaves some lasting marks on Merck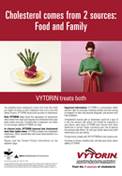 The nature and amount of press coverage is often a key factor in assessing how clinical trial results impact a product's prescription trends. In the case of the ARBITER 6-HALTS trial, Merck's cholesterol franchise has benefited from largely balanced coverage, somewhat limiting damage to lipid drugs Zetia and Vytorin.
The study showed that Abbott Labs' Niaspan, an extended-release niacin, bested ezetimibe—an ingredient in Merck's cholesterol-lowering drugs Zetia and Vytorin—on an ultrasound measurement of artery wall thickening, which can later lead to heart attacks.
An article in The New England Journal of Medicine criticized Zetia and said its use should be restricted. Two NEJM editorials brought balance to the discussion, and here was the first coup for Merck: neither of the editorials was written by the Cleveland Clinic's Dr. Steve Nissen, which had been feared.
The second: even Zetia's long-standing critics seemed to take a subdued approach when discussing the data. According to Sanford Bernstein analyst Tim Anderson, in press coverage, several experts supported Zetia, saying the difference between the two products may have been exaggerated.
Prescription trends show the franchise went hardly unscathed, though. For the week ending Friday, Nov. 20—after the American Heart Association (AHA) and NEJM released results of the study on Saturday, Nov. 14—patients new to Vytorin filled 5,092 prescriptions for the cholesterol therapy and 6,628 for Zetia, marking a decrease of 20% and 26%, respectively, from the week ending Nov. 13, according to SDI.
As of the week ending Dec. 11, NRx levels for Vytorin and Zetia were down 25% and 27%, respectively, compared to the week before the ARBITER data release. In contrast, new prescriptions for Niaspan (including those for new patients, switches and add-ons) rose 46% the week following the AHA reveal and, as of the week ending Dec. 11, were up 31%.
Despite the declines, Zetia/Vytorin are still likely to sell around $3.5 billion worldwide in 2010 (a 12% year-on-year decrease), according to Anderson. And their financial contribution to Merck will continued to diminish, as it has since early 2008, when findings from the ENHANCE trial were made public.
Since then Zetia prescriptions in the US are down by about 30% and Vytorin—a combination of Zetia and Merck's Zocor—prescriptions are down by about 45%, according to Bernstein figures. Internationally, the drugs have still been able to grow albeit at a moderating rate. Because of this, any incremental damage from other trials like ARBITER 6 was expected to be limited.
Questions about the drugs are likely to continue. Tuesday the FDA said it finished its analysis of the 2008 SEAS trial showing a possible cancer link with Vytorin and that it is unlikely that Vytorin or Zetia increase the risk of cancer or cancer-related death. But the agency said an association "cannot be definitively ruled out."
Two other trials are ongoing: IMPROVE-IT, a large outcomes trial expected to provide more definitive answers about the utility of Zetia/Vytorin in 2012, and SHARP, expected to be completed in 2010.
Scroll down to see the next article