June 02, 2014
ASCO highlights immuno-oncology challenges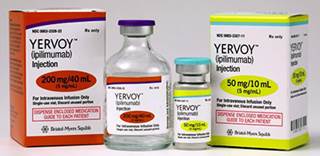 The American Society of Clinical Oncology (ASCO) annual meeting data rush has arrived, with one more day to go. Immuno-oncology continues to dominate headlines, but as Goldman Sachs analyst Jami Rubin noted in a Monday analysis, although "the pie is expanding for IO therapies," results show a need to reframe expectations from IO being a one-size-fits-many opportunity to perhaps one-size-fits-a-lot.
"The more we learn, the more questions arise," she wrote, noting for example that the 2013 ASCO conference seemed to indicate that combining Bristol-Myers Squibb IO agents nivolumab and Yervoy could be a go-to of sorts for multiple tumor types, but that 12 months later, expectations have changed. The 2014 conference shows "the complexity of combinations and biomarkers and the realization that different combinations will likely work in different cancer types."
As for BMS, the drugmaker announced Monday that a Phase-Ib test of Yervoy (ipilimumab), which is already approved for unresectable or metastatic melanoma, showed a one-year survival rate of 94% when combined with nivolumab and two-year overall survival rate of 88% among patients with advanced melanoma.
This news is in competition with reports from Merck, whose anti-PD-1 antibody MK-3475, now known as pembrolizumab, showed an overall survival rate of one year for 65% of melanoma patients who had disease progression on or following ipilimumab and an overall one-year survival rate of 74% among patients who had not undergone previous ipilimumab treatments. Merck also announced Monday that this same treatment showed "robust anti-tumor activity in patients with previously untreated advanced non-small cell lung cancer," in Phase Ib tests.
This somewhat pushes up against Eli Lilly's ASCO news that its just-approved gastric cancer drug Cyramza (ramucirumab) increased advanced NSCL cancer survival in Phase-III tests when combined with docetaxel as a second-line therapy. The gain was a median overall survival of 1.4 months, according to a MedPage Today report, and a gain of progression-free survival of 1.5 months. The improvement was among both squamous and non squamous patients.
ISI Group analyst Mark Schoenebaum noted in a Saturday recap that this gives Lilly a slight edge over Roche's Avastin, because "Avastin cannot be used in squamous patients and thus that part of the lung cancer market...is relatively wide open."
Leerink's Seamus Fernandez wrote in his Sunday research note that for Lilly's Cyramza, the long-term lung cancer opportunity may be limited because the response rate is comparable to that of its competition. Yet, that possible limitation does not mean Cyramza is a balance-sheet deadweight. Fernandez wrote that he sees Cryamza as being able to bring in sales of between $500 million and $1 billion in the lung-cancer segment "but upside beyond that likely would require successful development in combination with IO or other agents in development."
The results noted above were among the splashier conference treatments, but tucked in amid the expected was AbbVie's ABT-199. Goldman's Rubin noted in December that this agent, which was part of the Abbott spin-off, should not be ignored, and her Monday analysis of AbbVie's oncology potential tipped from being a company to watch to one with a treatment that "is emerging as a best in class with expectations likely to rise."
Rubin's reaction is founded on AbbVie's Saturday news that patients in a Phase-Ib trial of the experimental chronic lymphocytic leukemia (CLL) treatment had an overall response rate of 84% among patients with relapsed/refractory CLL, when its B-cell lymphoma selective inhibitor was combined with rituximab. AbbVie reported that six of the patients who achieved complete response status also reached "detection of zero leukemic cells" as of April 16.
Rubin wrote Monday that she expects higher doses could increase response rates and that "deep responses may allow patients to stop therapy and maintain responses, a key differentiator compared to Imbruvica," which is made by Pharmacyclics and Johnson & Johnson subsidiary Janssen.
Scroll down to see the next article