August 19, 2010
ASCO Post launches in print, and online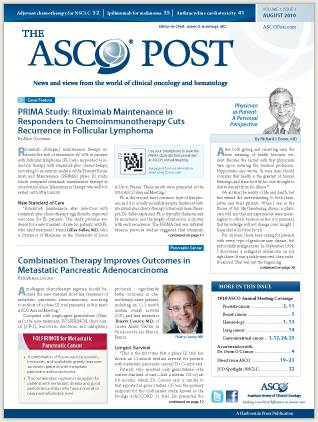 The American Society of Clinical Oncology (ASCO) and Harborside Press launched the inaugural print issue of ASCO Post in June, and launched a website home for the title yesterday.
ASCO Post, which is distributed for free to ASCO members in the US, can be read online, gratis, at ASCOPost.com. Qualified hematologists and oncologists in the US and abroad are also eligible for a free print subscription by request, according to Harborside Press spokesperson Conor Lynch. Circulation numbers are close to 26,000, said Lynch.
The print edition, described as a "newspaper-style" publication in the mission statement, covers oncology meetings around the world, offers summaries of clinical literature from other general and specialty journals, provides cancer-related political commentary, and details specific oncology cases. Columns from editor-in-chief James Armitage, a former ASCO president, will be featured in the title, along with columns from ASCO affiliates Richard Boxer, Nora Janjan, Allen Lichter, John Marshall and George Sledge.
For 2010, ASCO Post will be published monthly, but will increase its publishing cycle to 18 issues per year in 2011, according to Lynch. Advertising in the form of banners will appear on the website, and traditional advertising will be present in the print issue, said Lynch. A survey of current articles on the ASCO Post homepage included updated ASCO guidelines on the subject of aromatase inhibitors usage in postmenopausal women with breast cancer, new clinical results showing denosumab's superiority to zoledronic acic in delaying some skeletal events, and an article titled "Now is the time to fix the Medicare physician payment problem," penned by columnist and ASCO CEO Allen Lichter.
Separately, the British Medical Journal (BMJ) announced in a blog that BMJ Open, a new open access online journal would be launching in autumn 2010. That journal will feature peer-reviewed research articles "dedicated exclusively to medicine," and hopes to facilitate open data sharing; additionally, the journal will publish research protocols and reviewer's comments alongside final articles, according to the announcement.
Scroll down to see the next article