March 25, 2009
AstraZeneca launches Artery Explorer on second tour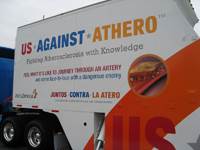 AstraZeneca is redeploying its Artery Explorer for a second tour, using medical animation to help bring atherosclerosis to life.

The Artery Explorer, a truck-mounted, motion simulator-equipped fiberglass pod in which patients can view an animated voyage through a plaque-encrusted artery, will hit 16 US cities this year starting with a stop in Washington, DC, later this week. The company hosted a satellite media tour with Atlanta heart surgeon Dr. William Cooper of Emory University Hospital and WellStar Kennestone Hospital.

Sporting a new look, the Artery Explorer will be staying longer in the cities it visits—two weeks for most—and setting up at smaller venues like hospitals in addition to large events. Several cities have been added to the itinerary, including San Francisco, where it will appear at the Senior Games, and Las Vegas, at AARP's annual convention, as well as Cleveland, Indianapolis, Charleston, SC and Washington, DC. This year, visitors will also be asked to take an exit survey aimed at gauging their understanding of atherosclerosis and whether or not they will discuss it with friends, family and/or their physician.

PR agency of record for the tour is Edelman New York. The animation was created by London shop Radical Departures, and the pod is operated by Pulseworks, an Atlanta firm that manufactures motion simulators.

Artery Explorer is part of AstraZeneca's Us Against Athero campaign, an unbranded companion to the company's Crestor work aimed at raising awareness of the disease. Crestor is indicated for slowing the progression of the disease in patients with elevated cholesterol.

Scroll down to see the next article