November 13, 2008
Baucus health plan would mandate gifts disclosure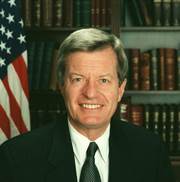 The healthcare plan unveiled by Sen. Max Baucus yesterday would require disclosure of "gifts and other transfers of value" from drug and device manufacturers to healthcare professionals.

As part of its call for increased transparency to lower costs, Baucus' "Call to Action" states: "Only with [disclosures] can potential bias be known. And the requirement to disclose may deter inappropriate behavior. Disclosure is the only way to know if there are inappropriate influences on the delivery of care and use of taxpayer dollars."

The call for disclosure of industry-physician relationships comes amid a larger push for transparency to lower costs, and includes nods to recent AMA and PhRMA code revisions, last week's MedPac report, which endorsed stringent disclosure policies for drug, device and biologics manufacturers, and laws enacted in four states – Minnesota, Vermont, Maine and West Virginia – requiring that manufacturers report any cash or in-kind payments to physicians.

"Unfortunately, data collection alone may not prevent inappropriate relationships," the white paper advises. "However, once national, system-wide data is available, the extent of industry influence and the wasteful spending that it leads to can be better determined. With this information, stronger enforcement can be put into place, so that regardless of provider relationships, we can be sure physicians are recommending and performing medical care based on sound medical science rather than heavy-handed industry influence."

The plan, which represents the opening salvo in the Democrats' healthcare reform efforts, is a fairly generic one, similar to those proposed by Sen. Clinton and President-elect Obama during the Democratic primary -- apart from making insurance mandatory, which is where Clinton (for) and Obama (against) differed. Baucus, a moderate Democrat from Montana, chairs the Senate Finance Committee, which has held nine hearings on healthcare reform this year.
Scroll down to see the next article