May 07, 2013
BI, Lilly go simple in new SGLT med-ed effort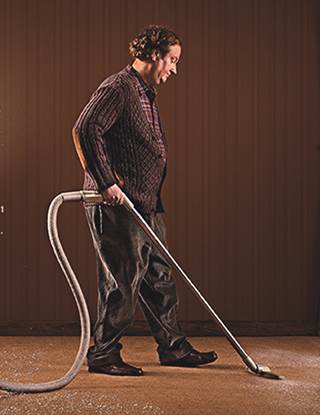 Boehringer Ingelheim and Eli Lilly rolled out a pre-launch med-ed campaign that differentiates their positioning in the emerging SGLT2 diabetes drug class.
The campaign features a broken vacuum cleaner as an analog for what may be frustrating physicians' efforts to maintain a normal blood-sugar balance in their diabetes patients—sodium glucose co-transporters. SGLTs act to ensure glucose entering the kidneys reenters the bloodstream instead of being passed in the urine, with the SGLT2 protein accounting for about 90% of this re-absorption.
The new class of pills, called SGLT2 inhibitors, suppresses this protein, allowing excess glucose to be excreted by the kidney. BI and Lilly filed a marketing application for their SGLT2 inhibitor, empagliflozin, with the FDA in March.
Their new med-ed campaign is designed to boost doctors' understanding of the role of SGLTs. "We could have gone a lot more scientific with this," said Mahesh Vijay, executive director, empagliflozin marketing, Boehringer Ingelheim. "When we tested [the simplified version], clinicians liked the way we portrayed it. They're doing all they can to control type 2 diabetes, but one in two patients in the US is not at goal."
Analysts say empagliflozin could launch in the US and EU in 2014. But it won't be first-to-market. Johnson & Johnson's SGLT2 inhibitor Invokana (canagliflozin) was cleared by the agency in March.
J&J's HCP site www.invokanahcp.com features a mechanism-of-action video showing how glucose reabsorption in the kidneys via SGLTs is reduced by the drug. A rendering of an artist's palette on the homepage evokes the shape of the kidney, perhaps to show that the pancreas is not the only organ physicians need to worry about in this population.
With their med-ed campaign, BI-Lilly break ranks with Invokana's branding. "Our emphasis is on the fact that patients are reabsorbing a lot of excess glucose in the blood," said BI's Vijay. "It happens to be through the kidney, but that's kind of a secondary message for us."
The faulty canister vac features on microsite www.SGLT.com, where a middle-aged man blithely vacuums his living room rug while, unbeknownst to him, a cloud of dust is shooting out the back, undermining his efforts. The headline, "Excess Blood Glucose Isn't Going Anywhere," is paired with the call-to-action, "Find out what could be working against your efforts to control type 2 diabetes." Additional learning options will be offered throughout the year, firms say, including disease-state theaters at major medical meetings.
The distinctive branding is by Draftfcb Healthcare's spinoff shop Area 23, which also did a short dynamic educational video, Glucose Perspectives, in the sketch-animation style of the Royal Society for the encouragement of Arts, Manufactures and Commerce (RSA).
The site is designed to "educate physicians on a certain aspect of type 2 diabetes that they may not be aware of," noted Vijay, and to capture and hold their attention. That's not an easy task, considering the barrage of information many physicians are used to seeing about T2D.
Unlike many new conditions, "Type 2 diabetes is not a new disease," he said. "If you talk to doctors, they've treated it for 15, 20, 30 years. What new things can we educate them on? They feel like they know almost everything there is to know…We had to think of some new way."
Yet another SGLT2 inhibitor, dapagliflozin, is being developed by Bristol-Myers Squibb and AstraZeneca. It was approved in Europe last November but received a Complete Response Letter in the US in December following an FDA Advisory Committee recommendation against approval. (The companies were asked to provide more data on cardiovascular risk.)
Many diabetes experts have seemed tepid on the SGLT2 class, but the drugs could be combined with DPP-4 inhibitors and GLP-1 drugs down the road, presenting a possible threat to Merck's Januvia.
Scroll down to see the next article