July 17, 2014
Biogen poised to shake up hemophilia market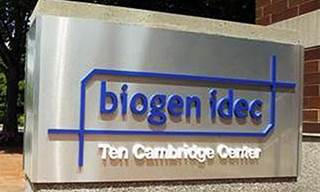 Biogen Idec is well-positioned to steal hemophilia market share from Baxter's Advate, analysts say.
Biogen's recombinant factor VIII therapy Eloctate, co-developed with Swedish Orphan Biovitrum, was approved by the FDA in June for use in adults and children with the rare disease hemophilia A. It's infused on a prophylactic basis every three to five days.
ISI analyst Mark Schoenebaum wrote in an investor note this week that Eloctate pricing will likely be similar to Advate, the incumbent therapy.
"On the whole, we calculate Eloctate pricing to be in-line to Advate at about $550k-600k/year," he wrote.
Besides offering a similar price, Eloctate also offers less-frequent dosing, the first such treatment to do so. That's a selling point that Jefferies analyst Eun Yang believes will also set up the drug for long-term success.
"Directional thinking of improving clinical outcomes with long-acting factors, plus convenience would likely drive meaningful switching in the medium and long term," Yang wrote in an investor note on June 27th.
Baxter derived $3.4 billion in sales from its hemophilia drugs last year, up from 2012's $3.2 billion in sales. The firm, which in March said it planned to spin off its biotech operation into a publicly traded company, is developing a long-acting version of Advate, its flagship hemophilia product. Baxter said today that Advate second-quarter sales rose 6%.
With similar pricing on top of convenience, Eloctate could capture a significant share of the $6-billion market for hemophilia A therapy, according to Biogen. Yang also noted that Eloctate is about one to two years ahead of potential competitors. A poll of analysts conducted by Thomson Reuters forecasts sales of $1.5 billion by 2019.
Eloctate marked the second FDA approval of a Biogen long-acting hemophilia drug. In May the agency approved hemophilia B therapy Alprolix. (Hemophilia A is the most common form of the disease.)
A study last September involving over 150 hemophilia-treating physicians, by market research consultancy ZoomRx, found that both Biogen hemophilia drugs could potentially capture and grow the market.
"ELOCTATE and ALPROLIX are poised to capture a significant share of the hemophilia market and also grow the market by increasing prophylactic treatment," researchers wrote at the time.
Scroll down to see the next article