February 04, 2010
Boehringer COPD awareness effort targets NASCAR fans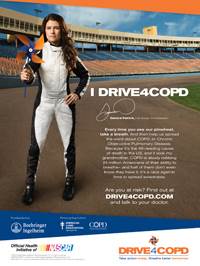 Boehringer Ingelheim is sponsoring a star-studded COPD awareness effort with NASCAR, the American Lung Association and the COPD Foundation.

The Drive4COPD campaign, a multiyear initiative aimed at promoting awareness of the need for early detection of COPD, features NASCAR driver Danica Patrick, actor Jim Belushi, Olympic medalist Bruce Jenner, musician Patty Loveless and football great Michael Strahan. All have close family members affected by bronchitis or emphysema.

Loveless will kick off the campaign Feb. 13 with her performance at Daytona International Speedway of a song she composed for the campaign remembering her older sister Dottie, who died of emphysema at age 48. Then, after a loop around the track, the campaign's celebrity drivers will log 6,000 miles for COPD awareness, putting in appearances at local screening events at NASCAR races, major sporting events, country music concerts and in PSAs and congressional briefings throughout the year.

The goal of the effort is go get 1 million Americans to take a five-question screener. An estimated half of the 24 million people in the US with COPD remain undiagnosed.

"We've worked in this space for a long time and we know there's a tremendous lack of awareness around this disease," said a Boehringer Ingleheim spokeswoman. She declined to say how much the company was spending on the campaign.

Boehringer Ingelheim's respiratory franchise includes Spiriva, Combivent, Atrovent, Berodual, Bronchodual, Duovent and the Respimat Soft Mist Inhaler.


Scroll down to see the next article