April 26, 2012
Bydureon catching on among endos but low profits expected, Amylin says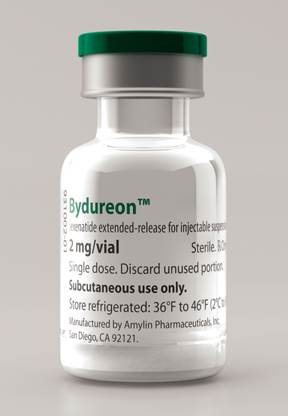 Amylin said weekly diabetes shot Bydureon, launched in February, is gaining market share among influential physicians but expects the med's profit margins to be low for some time.
Bydureon brought in $6.9 million in revenue in the first quarter, all of that from initial channel stocking. Amylin said that since the US launch, growth in the GLP-1 class of diabetes drugs has been 18% among high prescribers, a sign that bodes well for future revenues.
"What you're seeing is a big swing towards GLP-1s in those physicians that we targeted at launch," crowed Amylin president and CEO Daniel Bradbury during an earnings call this morning.
Amylin gained approval to sell the weekly version of GLP-1 drug exenatide in January, setting up a battle with Novo Nordisk's once-daily injection Victoza (liraglutide). Amylin also markets a twice-a-day version of exenatide, Byetta.
The new drug is also taking market share, Amylin said, with total exenatide NRx share increasing from 41.9% to 45.5% since Bydureon's launch. Byetta's market share is declining at a pace similar to its erosion before Bydureon—its first-quarter sales slipped 9% vs. the fourth quarter of 2011, due to a 4% decline in prescriptions. Overall product revenues fell during the quarter, to $153.7 million from $165 million in fourth-quarter 2011.
Bydureon is priced higher than Byetta. "That having been said, because Byetta has been on the market for a while now, we have an extremely low cost of goods associated with Byetta," said Bradbury. "We don't expect to be getting close to optimum margins for Bydureon for some time." He said that this is due to the fact that Bydureon is a somewhat more complicated product and that the firm pays a royalty to co-developer Alkermes, which stands to receive a $7-million milestone payment upon first commercial sale of Bydureon in the US.
In addition, as the third GLP-1 to market, this will "have some impact on the uptake curve," cautioned Amylin chief commercial officer, Vince Mihalik, also during the call.
The firm took over full control for US marketing of the exenatide franchise from Eli Lilly in December. It's handling domestic marketing alone. Efforts to secure a marketing partner outside the US, where commercial operations will transfer by December 2013, are ongoing, Bradbury said. Lilly launched Bydureon in the EU in the second half of 2011.
Pills vs. shots
Doctors view the GLP-1 product class as a way to confer weight-loss benefits in addition to controlling blood sugar, but they prescribe DPP-IV pills more, including Merck's Januvia and AstraZeneca/Bristol-Myers Squibb's Onglyza. The best-selling non-insulin diabetes therapy, Takeda's TZD pill Actos, is expected to lose patent exclusivity in August.
Analysts
have said
that the key to Amylin's ability to capitalize on having exenatide all to itself will be whether it can move beyond a mostly niche GLP-1 patient base—affluent people unable to control their weight.
High-prescribing endocrinologists and key primary care physicians, about 50-70,000 doctors, were initially targeted by Amylin's 650-person sales staff. "Our focus is on endocrinologists to build a solid base," said Mihalik. Its analysis of early Bydureon prescriptions suggests that this targeting approach is working.
The majority of prescriptions for the medicine have been "new to the class, as opposed to patients shifting from another GLP-1 option," he noted.
Amylin said a Bydureon pen delivery device is in development and is on track for launch in late 2012 or early 2013.
Scroll down to see the next article