December 18, 2012
Campaign offers smokers 52 inspirations to quit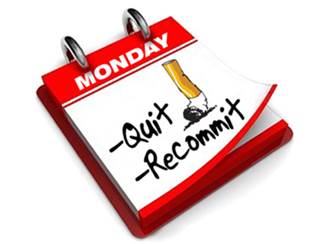 A case of the Mondays is exactly what nonprofit group the Monday Campaigns is hoping smokers come down with when December 31 closes out the last Monday of the year. It is also why this year, it's expanding its Quit and Stay Quit Monday campaign, first launched in 2008, to include Facebook and Twitter feeds.
The campaign, with the tagline "recommit to quit," officially launched its social media presence in November and has been slowly building its following, garnering 41 likes on Facebook and 50 followers on Twitter as of press time (as a point of reference, Meatless Mondays, which started in 2003, has over 38,000 Likes and over 20,000 followers).
The group focuses its health efforts—which include getting more exercise (Move More Mondays) and eating less meat (Meatless Mondays), among others—on Mondays for one reason: research by partner Johns Hopkins Bloomberg School of Public Health shows Americans get the bug to change things up on the first day of the work week.
Although the university's 2010 research about Monday mindsets did indicate that the day isn't always high on the love list—see songs "I Don't Like Mondays" and "Call it Stormy Monday (But Tuesday is Just as Bad)." They also found that the first day of the work week figures heavily in books that focus on success, such as Monday Morning Choices: 12 Powerful Ways to Go From Everyday to Extraordinary.
Project director for Monday Campaigns Cherry Dumaual said the key concept for all of its health initiatives is to cultivate a starting point and reinforce that urge for positive change on a regular basis.
In this case, the weekly refresh includes quitting tips that the organization posts on its Facebook and Twitter feeds. It also includes regular updates to information from sources such as the American Cancer Society.
While the social media following is gaining traction, the current number of anti-smoking followers belies a deeper outreach engineered by the 10-person team of comprised of health PR professionals. In addition to pairing up with the intellectual heft of Johns Hopkins, Columbia and Syracuse Universities, the New York team also works with larger organizations, such as SmokeFree.Gov, that take the seed idea—Mondays as a day of committing to a healthy habit—and using it to build out their own programs, while other organizations may choose to use the Monday Campaigns collateral materials in full to get the word out.
"My goal is to build partnerships with organizations like the Alzheimer's Association, Girl Scouts. We also want to make sure we just don't reach only health organizations . . . [because groups like] the Girl Scouts and Health Organizations are very concerned with health. Who isn't these days?" Dumaual told MM&M.
Right now that outreach includes traditional and social media and Dumaual said the group hopes to ultimately expand the program to include text messaging.
For now, the push is through social media, and Dumaual said it's an excellent place for reinforcement. "It's something that's like a friend reminding you 'hey, take care of yourself this week,'" or serve as a reminder that "you have a friend on social media who has your back, who's taking care of you."
"When quitters check in once a week, they get 52 chances a year to celebrate success or quickly try again" founder Sid Lerner said in a statement.
As momentum benchmarks, the Monday Campaigns have several successes to point to, including the November city council resolution in Los Angeles to declare Mondays "Meatless" and a similar move last year by Raleigh-Durham to encourage restaurants and individuals to go meat-free once a week. Dumaual said the going veg once a week would help individuals reduce their meat consumption for health and/or environmental reasons.
The Monday group also established a pilot program with Planned Parenthood in Virginia that encourages men to get checked for STDs and HIV/AIDS through its Man Up Monday Program.
Dumaual said that getting followers and link-backs to its programs, would be great, but that the group is focused on change, regardless of who gets the credit. "What's important is we get the Monday Message out. That's how you make a movement. It's not just one organization doing it."
Scroll down to see the next article