November 24, 2008
CCC to launch medical education and advertising certification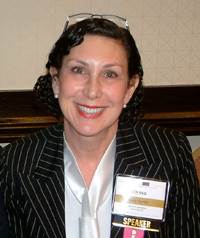 The Center for Communication Compliance (CCC) has launched new certification programs for healthcare advertising and promotional medical education professionals.
The tests, available online, will help the industry comply with new PhRMA regulations, effective January 2009, according to Susan Sikora, a CCC spokesperson.
The 2009 PhRMA code (pdf
here
) will require all promotional materials to be "accurate and not misleading; make claims about a product only when properly substantiated, reflect the balance between risks and benefits, and be consistent with all other FDA requirements governing such communications."
"Manufacturers are accountable for their agencies, and there must be a commitment to self-reform," said Ilyssa Levins, CCC founder and president. "The spirit of the PhRMA code [regarding agencies] is about not abdicating responsibility to regulatory personnel or the client."
In a "Compliance 101" questionnaire provided by CCC, the following questions were posed as some examples of issues marketers face, that are addressed in the training program:
We want to send a letter to physicians claiming that our product is the most prescribed in its class. What data are needed to support this statement?
How many of the most common adverse events for a product need to be listed to ensure that it is fairly balanced?
Do we have more latitude with promotional materials that are not intended to be left behind versus promotional materials that are? Do such materials need to be annotated in any special way, such as "Not for external distribution"?
On the promotional medical education side, the following examples were provided, among others:
Phase III trial data has just become available for a new product under development. What kind of meetings can be held at this point of drug development with the experts in the field?
Just before a scheduled presentation, an expert speaker reads a just-published paper in a major journal about your drug. The data is not consistent with labeling. Should the speaker be allowed to share that data, given his/her expertise?
Our company wants to create "back-up" or "supplemental slides" for use by speakers in response to potential questions about investigational uses for the approved product. How many back-up slides would be appropriate, and what should they include or not include?
Training for advertising and promotional medical education costs $5,500. That includes online access to the program for an entire company's staff, and unlimited access twenty-four hours a day. Basic certification tests cost $300 per person, and $100 for the advanced test, but the cost is lower if the tests are purchased in bulk, noted Levins.
The CCC launched a similar compliance and certification process for public relations professionals last June. As a result, Weber Shandwick and Porter Novelli both committed to certifying their healthcare staff in all US offices.
New Jersey-based agency ICC, whom recently landed Johnson & Johnson account work, was the first to announce plans to invest in CCC's regulatory compliance training for its entire team, in both advertising and promotional medical education, according to Sikora. Additionally, IMSCI, a medical education company in Connecticut, has also signed on to the program, said Levins.
Scroll down to see the next article