March 04, 2013
CDC talks stroke, heart-attack prevention in Spanish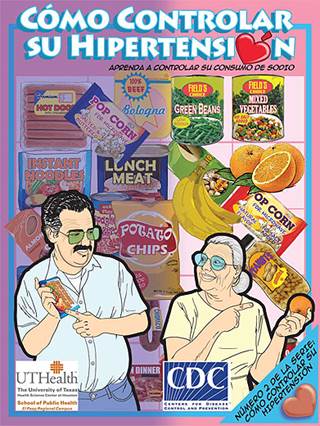 Two years into their campaign to prevent one million heart attacks and strokes, HHS and the Centers for Disease Control's Million Hearts initiative is now churning out materials in Spanish, and the new collateral has started to gain attention.
According to the CDC's latest tracking numbers, 407 visitors had sought out the new content within four days of its February 22 launch, gaining a particular bump in traffic after an NBC/Telemundo broadcast about the effort.
Not all of the materials have been translated, due to financial constraints. Currently, a translated toolkit is linked to the main information site. In addition to the CDC and HHS, the Centers for Medicare and Medicaid Services (CMS) and the National Institutes of Health's Heart Lung and Blood Institute are also chipping in to support the effort.
Spokesperson Kathy Harben told MM&M that the in-Spanish initiative is far more complex than just paying for translation services, because the materials have to resonate as well as make sense. For example, the English-speaking site has a feature called the "ABCs of heart health," which won't work in Spanish, and had to be modified to four steps for heart health. Harben said the initiative's starting point was an agnostic one, in that materials were not "tailored to any one demographic group," but were designed to assist the health agencies in the overall goal of preventing heart attack and stroke.
In addition to covering basics like adapting the "ABC" approach to a language-appropriate iteration, the Spanish-language rollout also includes a fotonovela, or a graphic novel, about heart health. Nell Brownstein of the CDC's Heart Disease and Stroke Prevention unit told MM&M in an e-mail that such illustrated pieces are a regular part of Spanish-language health outreach because it is culturally relevant and has been shown to be most effective when community health workers, or promotoras, read the fotonovelas with patients and family members. The strategy syncs with a cultural consensus approach to healthcare, one which relies heavily on family and community support and input.
The National Alliance for Hispanic Health is also among the organizations working with the CDC as part of the prevention push. Jane Delgado, president of the Alliance, said her nonprofit has been working with the CDC since at least the 1980s AIDS information push. "Whenever there's an issue that comes up that involves the Hispanic community, the CDC knows that they can count on us as a partner and a colleague," she told MM&M.
Delgado said the Alliance will be promoting the new materials at the 10 Vive tu Vida (live your life) Get Up Get Moving events it has throughout the country. Delgado said these events, which focus on healthy eating, activities and health screenings, draw between 3,000 and 5,000 people and are supported by Univision and Newman's Own Foundation.
Delgado said the goal is to help people adopt better behaviors, but there is more to it than living well. "I wish that people would understand that we do prevention not because it saves money, but because it saves lives... it's the right thing to do."
Million Hearts is an umbrella program with several components, including the 2012 "Team Up Pressure Down" effort to bring pharmacists into the health and prevention conversation.
The reason for the medical concern: CDC data indicates that heart disease accounts for about 25% of deaths and is the second-highest killer among Hispanics (cancer is No. 1).
Scroll down to see the next article