September 08, 2010
Cephalon videos seek to bolster physician-patient dialogue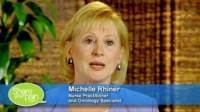 Promotion and scientific communication in the oncology sector are heavily weighted toward physicians. But in a sign that direct-to-patient marketing may be catching on in the cancer category, Cephalon launched a series of unbranded educational videos Wednesday, aimed at cancer patients, to help them cope with breakthrough pain.
This is an under-diagnosed and under-treated "sudden burst of pain" that occurs throughout the day and affects the majority of people treated for cancer pain, notes Dr. Charles Balch, a surgeon from Johns Hopkins Medical Institutions who hosts the videos, which are available on www.ShareYourPain.com. The videos are designed to be viewed by patients being treated for breakthrough cancer pain and feature advice from oncologists, pain specialists, nurses and patient advocates.
Philly-based medical ad agency Vox Medica worked on the vodcast, in partnership with Center City Film and Video. ShareYourPain.com, which debuted in May, was developed by Euro RSCG Life 4D.
The vodcast is designed to assist the viewer in "becoming an informed patient," Jenifer Antonacci, Cephalon associate director, product communications, told MM&M. Rather than replace interaction with the healthcare provider, she said, "the intent is to enhance it."
In addition to an explanation and tips for coping, the series includes a model dialogue video that illustrates the elements of clear patient and physician communication from a patient perspective. No products are mentioned, although Cephalon markets Fentora, a drug approved for treating cancer-related breakthrough pain specifically in patients who are already tolerant of opioids.
Oncology media spend is heavily skewed toward professionals. Among the top-50 targeted cancer products, like Roche/Genentech's Avastin and Novartis' Gleevec, and chemotherapy agents, like Sanofi-Aventis' Taxotere, SDI figures show that 97% (about $23 million) of all US media dollars went for journal ads in 2009 and only 3% (roughly $650 million) went for DTC media. Marketers say the imbalance is due to a reticence among clients to engage with the cancer population. The situation among supportive-care oncology products like Fentora is likely similar. But some say patient-focused efforts are long overdue, and as the Cephalon initiative shows, online disease awareness may be one way to do them sensitively.
As to Cephalon's choice of a vodcast, Antonacci said the video series "puts a face on the condition. It's not just words on a page. It's hearing perspectives of people from whom you can relate, or their peers."
Scroll down to see the next article