August 06, 2010
CME sea change is also a way to cut deaths from pain drugs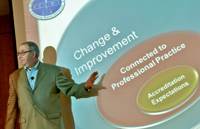 At a recent FDA advisory hearing on ways to increase the safety of extended-release and long-acting opioid drugs, the agency opened the door to using continuing medical education (CME) to help reach the goal.
Dr. Bob Rappaport, director of FDA's division of anesthetic and analgesic products, reviewed elements of a REMS (risk evaluation and mitigation strategy) for this category. Under the agency's plan, pharmaceutical companies would be required to develop an educational program for prescribers, he said, and the FDA would be responsible for approving the content of the training.
That comment marked "a real milestone," said Dr. Murray Kopelow, chief executive of the Accreditation Council for CME. "If control of the content remains in the hands of organizations outside of industry, then it's independent and accredited CME can deliver it."
It means that professional practice gaps, hypothetically, can be reflected by a commercial supporter in an RFP. Kopelow stressed, though, that the initiative for the education has to come from the FDA and the content has to be controlled or approved by the FDA.
He drew parallels to the ACCME's policy regarding medical-device training, which allows industry employees to demonstrate how to use a device, under careful supervision by the accredited CME provider, but does not allow industry employees to contribute to any other aspects of device education like indications for use or comparisons between competing products.
Once a class-wide REMS is finalized, it could create more opportunity for those CME providers that understand the rules and regulations of pain management and pain-medicine communications. The ability to fund REMS-centered doctor education could also come as welcome news to the 18 companies that market long-acting and extended-release opioids.
"We're all looking for ways to effectively educate our prescribers and patients and to make sense of our products," said Dr. Eric Carter, chief science office for King Pharmaceuticals, marketer of Embeda and Avinza, two forms of extended-release morphine.
As to why the FDA's green light marks a sea change for the CME community, Kopelow explained that, currently, the concept of REMS originates with the manufacturer. Companies write the materials and send them to the FDA, which approves and returns them to the sponsor to be presented. This model is not one that traditionally would have been allowed in accredited CME.
However, "Because the FDA has offered itself and its processes to retain control over educational content, now is the time accredited CME [providers] can step up," Kopelow told MM&M following the hearing, during which he spoke about how CME can be a strategic asset to REMS. "It's now time to bring industry to conversations with accredited CME providers who will negotiate this and implement this."
According to the Office of National Drug Control Policy, 50 million people overuse addictive drugs, but 90% of them don't think they have a drug problem. "The professional practice gap is the physician's failure to recognize the patient in their practice who's abusing," said Kopelow.
"The literature says that if you can teach a physician to intervene, to ask questions, to briefly screen, you can convert a huge percentage of those people off the path to dependence and back to the path to proper use of their medication."
He pointed to data and tools available on the Substance Abuse & Mental Health Services Administration (SAMHSA) website that healthcare providers can use to elicit this aspect of patient history.
For now, though, the category lacks a class-wide REMS. The FDA hearing culminated with advisory panelists rejecting, by a 25-10 vote, the FDA's proposed REMS, with the main sticking point being the voluntary nature of prescriber training—many of those who voted "no" would prefer to see a mandatory requirement to get clinicians up to speed on appropriate prescribing. (The agency usually—but not always—follows panelists' advice.)
Yet the convergence of FDA and ACCME on REMS, said Kopelow, holds out the promise of engaging physicians to make sure they have all the knowledge they need to prescribe, advise and monitor appropriately, to prevent diversion and guide people in the safe use of these medications. "Those are big challenges. We at the ACCME intend to do what we can to make sure accredited CME can do what it can to contribute to patient safety."
Scroll down to see the next article