December 04, 2012
Company news: HBA and Cardinal Health; Bristol-Myers Squibb; Spyglass; Cochrane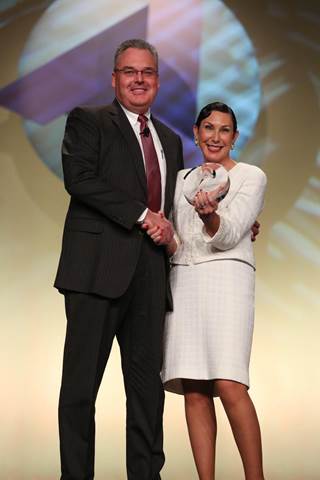 The
Healthcare Businesswomen's Association
(HBA) awarded
Cardinal Health's
Women's Initiative Network (WIN) its 2012 HBA ACE Award. The ACE Award rewards a company's effort to "strengthen the advancement, commitment, and engagement of women's careers in the healthcare industry." Mike Kaufmann, CEO, pharmaceutical segment at Cardinal Health, accepted the award at the national HBA Leadership Conference in Orlando, and said: "We know that focusing on women and diversity is not the right thing to do, but the smart thing to do – for our customers, our communities and our business." Cardinal Health's WIN was developed in conjunction with the company's Diversity Inclusion Strategy. The initiative provides a network, mentors, and training opportunities with the aim of helping women reach their full potential. Results of the initiative include three women board members, two female presidents and a requirement that a woman or a member of a minority group be interviewed for each management position. Buket Grau, HBA President, said of the program, "WIN clearly demonstrates a strong commitment to the career advancement of women and their impact on the healthcare industry. Cardinal Health proves why internal corporate initiatives that support women are no longer just a 'nice to have' – they are 'a must' to realize better business results."
Efficacy, not safety has come between
Bristol-Myers Squibb
and its experimental Alzheimer's treatment, avagacestat. The company has decided to abandon the Phase II drug,
reported Bloomberg
Tuesday. The drug targeted plaques, and Bloomberg noted that the company remains committed to tackling beta amyloids as a solution pathway.
Nurses aren't big on iPads, or tablets as a whole, according to a survey of more than 100 acute care nurses by the consulting group
Spyglass
,
reported MobiHealth News
. The study found that the reason behind the nurses' disdain for tablets included durability issues, infection control and limited data entry. As a kicker, MobiHealth added that a quarter of the polled nurses were also unhappy with their facilities' wireless networks. Despite the connectivity issues, Spyglass found that 45% of clinicians use mobiles to collect bedside data, up from 30% last year. They also found that they were also increasingly using camera phones to capture patient data.
Texting isn't just good for helping new moms. It's also good for helping smokers become ex-smokers, according to studies published by the
Cochrane Collaboration
,
reported NPR
. Like
Text4Baby
, the texting programs polled contacted subscribers with tips. In this case, the program set a series of motivational advice, tips and video links throughout the day. The program also included customized information, with the authors noting that subscribers could text "Crave" and receive strategies to resist the urge to smoke, such as taking a walk or grabbing a snack. Researchers estimated the programs "increased the chance of quitting in at least six months – from four to five percent in control groups, to between 6 and 10 percent in the texting groups."
Scroll down to see the next article