March 07, 2012
Company news: WebMD, Wiley-Blackwell and Eli Lilly/Boehringer Ingelheim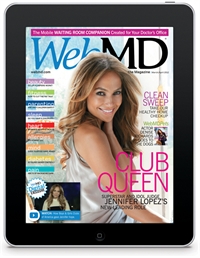 WebMD the Magazine is now part of the iPad app world. WebMD said Wednesday that the no-cost app and magazine subscription will be available through Apple's Newsstand, and includes videos, slideshows and blogs that open inside the app (inaugural cover above). WebMD said in a statement that each print issue reaches 10 million readers.
Journal EMBO Molecular Medicine
is converting to an open-access model and will be part of publisher Wiley-Blackwell's Wiley Open Access publishing program, Wiley and EBMO said. This is the second of EMBO's four journals to convert from a subscription-based model to open-access;
Molecular Systems Biology
made the switch in 2005. Future articles will be published under the Creative Commons Attribution Non-Commercial License.


Eli Lilly and Boehringer Ingelheim
's diabetes 2 drug Jentadueto has hit pharmacy shelves just a little more than a month after receiving FDA approval. The twice-daily tablet combines the DPP-4 inhibitor Tradjenta (linagliptin) and metformin in one table, and comes in three strengths. The two companies initially teamed up to promote
Tradjenta
, an alliance which ultimately led Lilly and Amylin to
dissolve
their preexisting partnership to market diabetes med Byetta and Bydureon, the weekly version of Byetta which the FDA approved January 30.
Scroll down to see the next article