January 14, 2010
DDMAC cites fishy Cymbalta fibromyalgia ads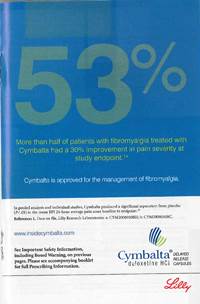 The FDA issued an untitled letter upbraiding Lilly for Cymbalta consumer and professional ads.
A consumer print ad for the brand's fibromyalgia indication fails to adequately communicate risks of use, the letter, from the agency's Division of Drug Marketing, Advertising and Communication, said. Risk information was presented on a separate page, to the left of the ad in the spread, but was not included in the main body of the ad, "but this is not sufficient to provide appropriate qualification or pertinent information for the claims made in the body of the ad or to mitigate the overall misleading presentation."
The professional ad, also for fibromyalgia, ran in WebMD's Little Blue Book Rheumatology edition and overstates efficacy while minimizing risks, the agency said, noting that risk information was placed on a separate spread from that containing efficacy claims.
DDMAC also released several untitled letters issued in December. The division warned Bayer HealthCare over a live consumer-directed program for its Mirena IUD, saying it found no evidence that the contraceptive device helps improve couples' romantic lives or makes women look and feel great, as indicated in the program, designed for presentation to "busy moms" in a consumer's home or restaurant by an NP and a representative of social networking site Mom Central.
A letter to Amylin and Lilly advised the companies that oral statements by company representatives at a medical society meeting touting the benefits of Byetta broadened the drug's indication, overstated efficacy, promoted an unapproved use and exaggerated potential weight loss benefits.
And a letter to Cephalon said a pocket dosing card for Treanda omits important risk info as well as important material information regarding dosing claims made for the cancer drug.
The number of untitled letters issued by DDMAC leaped to 28 in 2009 from just 10 in 2008, while the more serious warning letters remained more or less steady at 13 over 2008's 11.
Scroll down to see the next article