April 06, 2009
DDMAC raps sponsored links for omission of risk info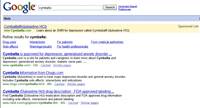 The FDA's Division of Drug Marketing, Advertising and Communications slapped 14 drug companies with untitled letters for sponsored links on Google deemed violative because they omitted risk information.
DDMAC sent the letters, dated March 26, to Biogen Idec, Sanofi-Aventis, GlaxoSmithKline, Forest Laboratories, Cephalon, Bayer, Johnson & Johnson, Pfizer, Novartis, Genentech, Boehringer Ingelheim, Merck, Lilly and Hoffman-LaRoche, requesting that they pull the sponsored links in question.
Sponsored links appear as a highlighted bar atop Google searches, with room for 95 characters, including headline -- little more than a short sentence describing the product advertised. A sponsored link for Lilly's Cymbalta that the agency found violative featured a link, the URL for the product site and the line: "Learn about an SNRI for depression called Cymbalta (duloxetine HCI)."
In its letter to Lilly, the agency said "Promotional materials, other than reminder pieces, which include the name of the drug product but do not include indications or other representations or suggestions relative to the drug product, are required to disclose risk and other information about the drug." The letter noted that the sponsored link did contain a link to the product site but said "this is insufficient to mitigate the misleading omission of risk information from these promotional materials." The letter also noted that Cymbalta carries a boxed warning.
An agency spokesperson said in an email to
MM&M
that companies are subject to rules regarding disclosure of risk and other information "even if they choose to do so using a promotional vehicle that has space limitations," and suggested that unbranded pieces or reminder promotions might serve as alternatives for space-restricted formats. Reminder promotions can feature the name of a drug but not indications, dosage recommendations or other representations of safety or effectiveness, but are not allowed for drugs that, like Cymbalta, carry boxed warnings. "Note that we have observed many compliant promotional pieces of this type during our monitoring of prescription promotion on the Internet," said the spokesperson.
In addition to the lack of risk information, the letters also called out some sponsored links for failing to include the generic or molecule name as well as the brand name of the drug and for incomplete or misleading indications. The target companies have until April 9 to respond to the agency in writing.  
Scroll down to see the next article