August 27, 2009
DDMAC slaps J&J journal ad, Pedinol mailer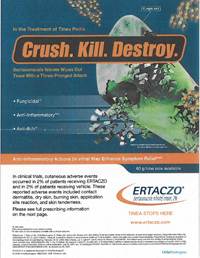 The FDA issued an
untitled letter
to Johnson & Johnson for a
journal ad
for its athlete's foot treatment Ertaczo Cream, saying the ad omits key risk info, broadens the indication and overhypes efficacy.
Among other things, agency reviewers took issue with the ad's headline, which consisted of the words "Crush. Kill. Destroy" in orange boldface over the copy: "Sertaconazole Nitrate
wipes out
tinnea with a three-pronged attack."
"These claims are misleading because they greatly overstate the efficacy of this product," said the August 21 letter, adding that the ad's lack of specificity effectively broadened the indication, omitted serious risks and wrongly implied fungicidal, anti-inflammatory and anti-itch properties it does not have.
The agency's Division of Drug Marketing, Advertising and Communications (DDMAC) also said J&J neglected to submit the ad to FDA at time of initial publication, as required.
DDMAC also issued an August 20
warning letter
to Pedinol Pharmacal for a professional
direct mailer
for its Nalfon NSAID. The mailer, said DDMAC, "recommends or suggests a specific use for Nalfon that the drug has not been evaluated by the FDA for and thus creates a new 'intended use' for the drug."
The mailer, urging docs to "Free your sole," encouraged the use of Nalfon for the treatment of plantar fasciitis pain, or irritation and swelling of the thick tissue on the bottom of the foot. The drug is indicated for mild to moderate pain in adults, as well as for symptoms of rheumatoid arthritis and osteoarthritis, but not for plantar fasciitis.
On August 18, DDMAC issued warning letters
to Allergan
, for a
journal ad
promoting the firm's Aczone acne medication,
and Galderma
, over
professional visual aids
for Tri-Luma Cream.
Scroll down to see the next article