February 25, 2013
Dendreon calls in air reinforcements for Provenge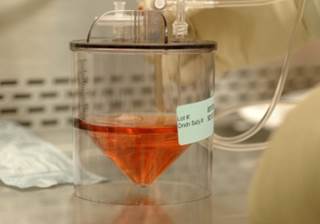 Dendreon is readying a $5 million-per-quarter "targeted" DTC advertising campaign as the company seeks to goose sluggish growth in sales of its prostate cancer treatment Provenge.
Said EVP, global commercial operations Joe DePinto in an earnings call this morning: "There are two main reasons that this campaign is important. The first is that when Provenge is recommended to patients by physicians, some patients may hesitate because they don't understand immunotherapy. Second, we know that when a well-educated consumer asks his doctor for Provenge and he is an appropriate patient, there's an extremely high connect rate."
In the company's first spot, a man says: "No matter what, people can count on me to get the job done, so when my prostate cancer returned, my doctor told me this time is going to be different—with Provenge, a personalized treatment that lets me count on my own body to fight back." The tagline: "Provenge: helping you help yourself."
DePinto told analysts and investors that the company has also seen traction with its PROPEL direct-to-patient branded education program, though which physicians give presentations on the drug to patients at local and regional meetings of major prostate cancer support groups.
"This enables us to access an extremely wide audience of potential patients," he said, noting that the company conducted 75 PROPEL meetings in 2012, with an average of 20 patients per meeting, but some reaching more than 400 patients
On the professional side, the company has added key account managers in its urology sales unit, and community urology accounts were up 25% in the fourth quarter. In community oncology, where Dendreon will add reps next, accounts grew a more modest 4%.
Community clinics account for 71% of sales, "which is where we believe the long term revenue potential exists," said DePinto. "While adding new infusing accounts is important, our focus remains on penetrating our existing customer account base to increase our depth of sales, which drives volume."
Dendreon has been struggling amid slower-than-expected sales of the biologic, and has hemorrhaged reps. The company is in the midst of a major restructuring aimed at paring down costs. While product revenues rose 51% year-over-year for 2012, the company recorded a net loss of $393 million for the year—up from last year's $337 million.
Scroll down to see the next article