December 05, 2012
DePuy coaches joint pain sufferers not to delay surgery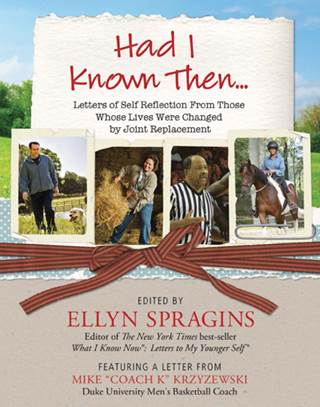 A new campaign from J&J's DePuy Orthopedics, aimed at raising awareness of joint replacement, features Baby Boomers' letters to their younger selves.
The joint giant is targeting osteoarthritis sufferers, many of whom delay surgery for seven years or more, the company said, due to fear, misinformation or lack of awareness of treatment options. To that end, the company tapped Ellyn Spragins, author of the best-selling "Letters to My Younger Self" series of books, to produce a booklet, titled "Had I Known Then," on joint health. Printable and shareable, the 46-page booklet is housed at HadIKnownThen.com, from which visitors can also order hard copies.
Famed Duke University basketball coach Mike "Coach K" Krzyzewski serves as the campaign's celebrity letter writer. Krzyzewski said he nearly retired in 1999 due to hip joint pain, but suffered until 2002, when he underwent hip replacement on his right hip.
"With the benefit of hindsight, I realized that, for all those years when I was suffering from osteoarthritis, I was bringing other opponents to the basketball court," said Krzyzewski in a statement, "pain, fatigue, lack of movement—and that really limited my ability to be a good leader and coach. I was battling a lot of opponents, not just those on the court. I really wish I would have had my hip replaced sooner. Today at 65, I feel younger than I did at 52."
The booklet and site are unbranded, though a prominently displayed link to RealLifeTested.com takes viewers to a site with information on DePuy's hip and knee products, along with a doctor finder tool that will direct patients to DePuy-trained orthopedic surgeons. Chandler Chicco Agency is handling PR on the effort.
DePuy markets artificial joints for hip, knee, shoulder, ankle and finger joint replacement.
Scroll down to see the next article