June 27, 2012
Did you make the cut? Announcing the MM&M Awards finalists...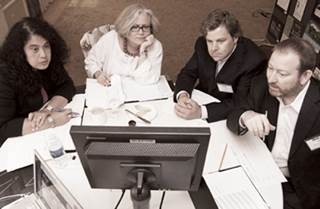 Following two comprehensive rounds of scoring by more than 100 independent industry judges, the results are in for the MM&M Awards 2012. The five finalists for each of the 24 categories are revealed below—but you'll have to wait for the spectacular dinner and ceremony at Cipriani 42nd Street in New York on October 9 to find out who will take home the gold and silver awards.
The MM&M Awards are judged with the utmost independence and authority, using an esteemed panel of leaders and thinkers representing a wide variety of disciplines and backgrounds within the healthcare marketing community.
This year, MM&M more than doubled the size of the judging panel and introduced a preliminary stage of judging. The objective was threefold: to increase the number of judges reviewing each submission; to allow greater flexibility in matching judges' expertise with particular category disciplines; and to enable an additional, extended review of the leading contenders in the final round.
Remember, not even the judges will know the identities of the gold and silver winners until they are revealed for the first time on October 9.
For more information on the MM&M Awards, including how to reserve tickets for the dinner and ceremony, a comprehensive list of 2012 judges and details of sponsorship opportunities, please visit the dedicated MM&M Awards website.
THE MM&M AWARDS 2012 FINALISTS
1. Best Healthcare Consumer Media Brand
dLife—It's YOUR Diabetes Life!
POZ
Spirit of Women
Walgreens Diabetes & You
WebMD The Magazine
2. Best Healthcare Professional Media Brand
Internal Medicine News Digital Network
MedPage Today
Pharmacy Times
RSNA
The Smartest Doc
3. Best Use of Direct Marketing to Consumers
The Agency Inside Harte-Hanks and Alcon/CIBA Vision—EyeFile
Extrovertic and Vertex Pharmaceuticals—Treatment Support RM Program
McKesson Patient Relationship Solutions, Ogilvy Healthworld and Allergan—LAP-BAND Behavioral Call Campaign
QualityHealth and Novo Nordisk—FlexPen QualityConversations™ Program
Wingnut Advertising and Optum—Lifeprint Refer a Friend
4. Best Use of Direct Marketing to Healthcare Professionals
Hamilton Communications and Baxter—Rule Out Alpha-1. Test Today.
ICC Lowe and Janssen Therapeutics—(In)sider Program
Ogilvy CommonHealth Worldwide and Daiichi Sankyo—Welchol for Oral Suspension (OS) Mixing Guides
Ozone Online and Medtronic—Insulin Forward
Saatchi & Saatchi Healthcare Innovations and Sanofi Pasteur—Adacel Impact Piece
5. Best Use of Public Relations
Coyne Public Relations and Pfizer Consumer Healthcare—Children's Advil Offers a Dose of Fever Relief for Parents
MCS Public Relations and Head & Neck Cancer Alliance—Oral, Head and Neck Cancer Awareness Week (OHANCAW) 2011
Novo Nordisk—Drive the Switch: Novo Nordisk Challenges Diabetes Patients to Re-Think How They Take Insulin
Feinstein Kean Healthcare and Pfizer—Viagra: Anti-Counterfeit
Spectrum Science Communications and RESOLVE: The National Infertility Association—Destination: Family
6. Best Branded Website
Euro RSCG Tonic and Astellas—Pipe People Campaign
Euro RSCG Worldwide and Sanofi US—APIDRA.com
Giant Creative Strategy and Neutrogena—NeutrogenaMD Healthcare Professional Website
Intouch Solutions and Alkermes—VIVITROL.com: Consumer & HCP Website
Klick Health and Acorda Theurapeutics—Ampyra.com Consumer Site
7. Best Disease/Education Website
Brightworks Interactive Marketing and The Arthritis Foundation—Tackle Gout!
H4B Chelsea and Genzyme, a Sanofi Company—MS Atrium, The Gateway to MS Knowledge (www.msatrium.com)
Ignite Health and Vertex—FindHepC.com
Saatchi & Saatchi Wellness and Abbott Laboratories—PsoriasisSPEAKS.com
Siren Interactive and Baxter Healthcare Corporation—ThereForYou.com User Experience Enhancements
8. Best Online Patient Relationship/Adherence Program
Anderson DDB Health & Lifestyle and DePuy—Real Life Tested
Digitas Health and Novartis—Get on Track Program
gcgCONNECT and Novo Nordisk—Cornerstones4Care Patient Relationship/Adherence Program
H4B Catapult and Novartis—CML Navigator
McCann Torre Lazur and Aptalis—Live2Thrive
9. Best Use of Social Media
Digitas Health and UCB—Epilepsy Advocate
GA Communication Group and Upsher-Smith Laboratories—Straight Talk
Ignite Health and Ignite Labs—Diabetes Nest
Intouch Solutions and Sanofi—Engaging With The Diabetes Community Through Social Media
LBi Health and Johnson & Johnson—BAND-AID Brand by Cynthia Rowley Presents: Fashion Emergency Story Contest
10. Best Mobile App for Consumers
Brightworks Interactive Marketing and Bayer HealthCare—The Rosacea App
Everyday Health—Pregnancy Tracker from WhatToExpect.com
Everyday Health—Calorie Counter - FREE iPhone App
Intouch Solutions and Bayer HealthCare Pharmaceuticals—FactorTrack
WebMD—WebMD Baby App
11. Best Mobile App for Healthcare Professionals
AbelsonTaylor and Abbott—Similac Cognition iPad App
AlphaMed Press—The Oncologist HD App
Chandler Chicco Agency and Sanofi US—AFib Educator App Increases Awareness of Atrial Fibrillation
Infuse Medical and Boston Scientific—Charger App
Infuse Medical and C.R. Bard—Sapiens TCS App
12. Best Interactive Initiative for Consumers
Cambridge BioMarketing Group and Alexion—Hypophosphatasia/Rare Disease Day
Digitas Health and Shire—Own It
Flashpoint Medica and Genentech—informationaboutcancer.com
RAPP and Pfizer—Viagra: Anti-Counterfeit
Saatchi & Saatchi Wellness and Abbott Laboratories—The Virtual Doctor Visit
13. Best Interactive Initiative for Healthcare Professionals
Blue Diesel and Astellas Pharmaceuticals—iPad Presentation
Blue Diesel and Zimmer Surgical—Augmented Reality
Draftfcb Healthcare NY and Janssen Biotech—Stelara iDetail
Intouch Solutions and Alkermes—VIVITROL Opioid iPad e-Detail
Rosetta and Otsuka America Pharmaceutical—Augmented Reality Virtual Hyponatremia Patient iPad app
14. Best Consumer Print Campaign
Digitas Health and Bristol-Myers Squibb/Otsuka America Pharmaceutical—"Me and My Depression" Print Campaign
Digitas Health and MedImmune—"I Pick My Nose"
Draftfcb NY and Pfizer/Boehringer Ingelheim—Spiriva "Elephant" Print Campaign
Saatchi & Saatchi Wellness and AstraZeneca Pharmaceuticals—"Doctor Doing Your Job" (DDYJ) Print Ad
STRIKEFORCE Communications and Teva Women's Health—ParaGard: Print Campaign – "Fits Her Life" (Cafe & Scooter)
15. Best Single Professional Print Advertisement
AbelsonTaylor and Eli Lilly & Co.—Forteo Ortho Journal Ad
Blue Diesel and Endo Pharmaceuticals—Print Ad
Flashpoint Medica and Ethicon Endo-Surgery—Because so much is on the line
H4B Chelsea and Alcon—AIR OPTIX AQUA Trade Ad: "It's time for an upgrade"
The CementBloc and Depomed—Pain Doll Print Ad
16. Best Professional Print Campaign
Cline Davis & Mann and Salix Pharmaceuticals—Out of The Woods
Flashpoint Medica and Acorda Therapeutics—Think MS. Think Walking. Think Ampyra.
Harris D. McKinney and Expression Analysis—Genomic Know-How
Harrison & Star and Genentech—Advanced BCC Awareness
McCann Torre Lazur and Shionogi—Ulesfia - Leave Lice Breathless Campaign
17. Best Professional Print Campaign for New Launches
Area 23 and Archimedes Pharma—Lazanda "Thank you, but..." Campaign
The CementBloc and Depomed—Pain Doll Launch Ad
Dudnyk and ViroPharma Europe—Prevent the Swell Campaign Launch
RevHealth and Essilor—Print Ads
Symmetri Marketing Group and Dentsply—Chemfil Ads
18. Best Professional Sales Aid
AbelsonTaylor and Sunovion—Latuda Sales Aid
Cline Davis & Mann Princeton and Merck—Implanon NXT Sales Aid
Giant Creative Strategy and Roche—Roche Cobas HPV Test Sales Aid
Ogilvy CommonHealth Worldwide and McNeil Consumer Healthcare—Allergy Face Vis Aid
Palio and Abbott—Shattering Perceptions
19. Best Corporate Marketing Campaign
CAHG and Merck—Merck Infectious Disease Video
The CementBloc and The Coore Foundation—Grow Sole Campaign
GSW Worldwide and Eli Lilly & Co.—"The Moment" Short Film
ICC Lowe and Roberto's Kids—Stitches
Star Group Communications and Saint Clare's Health System—A Mission Brought to Life: Saint Clare's 24/7
20. Best Agency Self-Promotion
AbelsonTaylor—AT Self Promotion
Cline Davis & Mann Princeton and AIDS Service Center NYC—AIDS Service Center NYC: Condom Ad
Compass Healthcare Marketers—Empower Patients
Flashpoint Medica—Meet Flash
Scout Marketing—Be Brave
21. Best TV Advertising Campaign
AbelsonTaylor and Abbott—Ensure "Good Eggs" :30 TV
Cult Health and Novo Nordisk—Insulin Delivery, My Way
Digitas Health and Shire—Own It
Draftfcb NY and Pfizer/Boehringer Ingelheim—Spiriva "Elephant" TV Campaign
MacLaren McCann and Dukoral—This Is Not a Good Time
22. Best Over-The-Counter Product Campaign
AbelsonTaylor and Abbott—Ensure "Good Eggs" :30 TV
Anderson DDB Health & Lifestyle and Pfizer Consumer—Home Farming
Anderson DDB Health & Lifestyle and Schering-Plough—Lab
23. Best Multichannel Campaign for Small-to-Medium Client Organizations
AbelsonTaylor and Vertex—Incivek Knight Cycle Campaign
Digitas Health and Shire—Own It
Euro RSCG Tonic and Astellas—Pipe People Campaign
Greater Than One and Sunovion Pharmaceuticals—OMNARIS Nasal Spray
McCann echo Torre Lazur and Eisai/Janssen Pharmaceuticals—AcipHex "Troublesome Trio" Campaign
24. Best Multichannel Campaign for Large Client Organizations
CAHG and Merck—Multiple Serotypes in One Campaign
Edelman and Humana—Humana AEP Campaign
HealthEd and Genentech—Xeloda Multichannel Patient Adherence Campaign
JUICE Pharma Worldwide and Merck—SAPHRIS Integrated Marketing
STRIKEFORCE Communications in collaboration with Draft Media and Story Worldwide, and Teva Women's Health—ParaGard - "Fits Her Life"
Scroll down to see the next article