December 12, 2013
Doximity plays matchmaker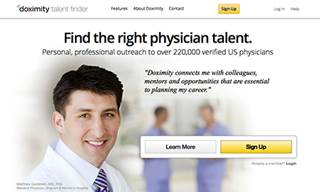 Doximity is asking recruiters to turn over $12,000 for the opportunity to use its Talent Finder service and mine the employment potential of a professional network that consists of 220,000 physicians, 60% of whom have trained at a top medical school or residency program.
CEO and Founder Jeff Tangney told MM&M the company already has 200 clients signed on, beating investor goals. Ohio State University, Cedars-Sinai, Kaiser Permanente and Banner Health were among the groups which beta-tested the service. Tangney said the typical recruiter buys two to three software licenses, which gives each sign-on the ability to connect with the network and send messages.
It also takes care of the much-needed issue of revenue. "We of course need to make money at some point," Tangney said.
Doximity's CEO and founder added that Talent Finder's value is that it improves on the job-hunting experience for both those seeking talent and those looking to be found.
On the recruiting side, the new capability updates an employment system which still relies heavily on journal ads, word-of-mouth and career fairs. This is a small-network approach both in terms of technology and demand—Doximity's platform announcement mentions the incipient doctor shortage, and Tangney said this new service is a way to amplify employment opportunities.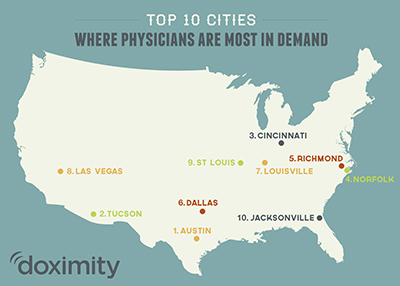 For professionals, the new service has several advantages, such as the ability to keep a job hunt private, so current employers won't be aware that a professional is exploring moonlighting or full-time positions elsewhere.
Tangney said the job-matching service also stands out by what it does not allow: vague descriptions and hazy compensation information. "Job boards are notoriously vague," he says, before reeling off descriptions he's read elsewhere such as a job that was listed as "a short drive to the Carolina beaches… of course the job was in West Virginia," or another posting that said it was located "more than three hours from hunting and fishing." Doximity's service requires a specific location and the dollar amount—be it hourly, annual or otherwise—before a job can be posted.
Although Doximity provides alumni connections in addition to networks to the overarching medical community, Tangney said the two are not in competition with one another. He did, however, note that doctors prefer to join the Doximity network instead of an alumni one because "they're afraid if they join the alumni site and give their email they will be getting too many requests for donations."
Tangney said that around 26% of doctors click on a posting that's sent to them and that the opt-out rate for receiving job notices has been low. Tangney says the postings have been a pretty even mix between full-time job offers and temporary or moonlighting gigs. He says the most popular ones are in postcard locations like the Bahamas, and that who's been clicking on these jobs has been a bit of a surprise. "The older physicians, those in their late 50s, the empty nesters seem to be very interested in a weekend away someplace else," he said.
Scroll down to see the next article