November 24, 2009
DTC spurred Plavix price hike, says study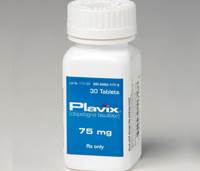 An article in the Archives of Internal Medicine asserts that direct to consumer advertising of Plavix prompted a massive run-up in the price of the blockbuster blood thinner.

Researchers pored over pharmacy data from 27 Medicaid programs from 1999 through 2005 and found that while use of the drug did not increase after inception of DTC adverting in 2001, "there was a sudden and sustained increase in cost per unit of $0.40 after DTCA initiation." That cost increase, which the authors attributed to Sanofi-Aventis and Bristol-Myers Squibb offsetting the expense of advertising, resulted in an additional $207 million in pharmacy expenditures, the report's authors said. Sanofi and BMS, they noted, spent upward of $350 million on consumer ads between 2001 and 2005.

"Direct-to-consumer advertising was not associated with an increase in clopidogrel use over and above existing trends," they wrote. "However, Medicaid pharmacy expenditures increased substantially after the initiation of DTCA because of a concomitant increase in the cost per unit. If drug price increases after DTCA initiation are common, there are important implications for payers and for policy makers in the United States and elsewhere."

Harry Sweeney of the Coalition for Healthcare Communication scoffed at that assertion, saying it represents "the bias of some authors who seek to find support for their political views and, in the absence of evidence, who are satisfied to make rhetorical assertions masquerading as the use of 'scientific method,' with no basis in fact."

The authors, from Harvard, Kaiser Permanente, The University of British Columbia, Vancouver and The University of Alberta, Edmonton, said DTC advertising could drive healthcare costs by increasing total pharmacy costs, prompting price spikes on the drugs as manufacturers seek to recoup the cost of advertising, and as they launch ads and hike prices on expanded indications.

The study comes at an awkward time for the drug industry, with a massive healthcare reform bill moving through a Congress divided on the question of whether the government should be empowered to negotiate prices directly with drug companies for the Medicare prescription drug benefit. And it comes on the heels of a New York Times article that, citing the work of several healthcare economists, said drug companies have raised wholesale prices of branded drugs by around 9% in the past year, and inferred that the industry often hikes prices ahead of major healthcare legislation moving.

In response, PhRMA accused the paper of "using selected statistics to make a flawed assumption that an increase in drug prices must somehow be tied to healthcare reform."

Scroll down to see the next article