October 14, 2009
Dukakis stars in Novo Nordisk diabetes awareness PSAs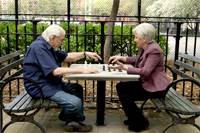 Novo Nordisk recruited actress Olympia Dukakis and her husband, actor Louis Zorich, for a diabetes awareness PSA debuting in New York City taxis next month.
Dukakis, 78, and Zorich, 85, appear in the latest iteration of Novo Nordisk's "Ask. Screen. Know." campaign, urging people 65 and over to ask their doctor for a free diabetes screening. Zorich was diagnosed with type 2 diabetes during his last screening.
The spot, which will also air on CNN's airport network, encourages viewers to visit
AskScreenKnow.com
, where they can send emails or voicemails to friends and family from Dukakis urging them to take advantage of a Medicare benefit covering diabetes screenings.
In addition, Dukakis and Zorich will speak at AARP's Vegas@50+ convention October 23, and will be available for interviews in November, which is Diabetes Awareness Month. Banner ads will run on sites targeting seniors, including AARP.org and Eons.com.
Seven out of 10 US adults age 65 and older have diabetes or pre-diabetes, the company said. Fewer than 10% of older adults on Medicare are taking advantage of the free screening benefit.
Scroll down to see the next article