September 24, 2008
Dusa, Topin & Associates take three Doctors' Choice awards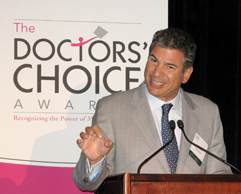 Dusa's ClindaReach professional ads, created by Topin & Associates, snagged three awards at the sixth annual Doctors' Choice Awards luncheon on September 24. The awards are presented by the Association of Medical Media (AMM).

Best overall ads were announced to a crowd of 230 industry members by Vince Parry, president of Y brand and chief branding officer, inVentiv Health, and Brendan Ward, creative partner, Regan Campbell Ward • McCann.

Ads for ClindaReach, an acne medication and applicator, won for best dermatological ad, best overall four-page and over ad, and best specialist ad. Awards were decided by a tally of votes from 5,742 physicians spanning 25 specialties. Judging criteria included an ad's "ability to communicate clearly and quickly, help with clinical decisions, prompt seeking more information or re-examining treatment, generate interest, add to information provided by company sales reps and/or underscore the value of the product prescribed," according to AMM president David March. 
Lilly's Cymbalta – a depression medication – won twice for ads executed by GSW Worldwide, in the categories of best diabetes therapy ad and best neurologicals ad. MedThink's ads for Salix's Colazal, a colon drug indicated for ulcerative colitis, also won two awards, for best gastroenterologicals ad, as well as best overall one-page ad.  Chantix, Pfizer's smoking cessation drug, was the third brand to win two awards, for best overall two-page ad and best generalist ad (Chantix has won best generalist ad for two years running). Ads for Merck's Gardasil, created by JUICE Pharma, picked up the award for best overall three-page ad. For a complete listing of the 2008 winners, visit the AMM website.
Keynote speaker Jay Carter, senior vice president, director of client services, AbelsonTaylor, decried the state of the industry, asking attendees of the luncheon to face the fact that "we're sitting on a bubble. The industry that we work for is undergoing a contraction," he said. Carter said pharma is "targeted [by government] because of its profitability, and the fact that our profitability directly impacts federal budgets and the pocketbooks of the most influential block of voters in America: senior citizens."
On a more upbeat note, Carter offered hope for the future citing PhRMA's count of 554 products currently in Phase 3 of development. "The truth is, people are willing to pay more for better things, especially things that impact their health" said Carter, noting that there are still lots of unmet needs in several therapeutic areas, including osteoporosis, depression, diabetes and Alzheimer's. 
Speaking on medical journal advertising, Carter echoed March in describing journal ads as a fundamental campaign element working synergistically with other media. "My belief is that the journal ad is an incredibly cost-effective and productive medium for promoting healthcare products," said Carter.
The Doctors' Choice Awards ceremony was held during a luncheon at the New York Palace Hotel.
Scroll down to see the next article