May 13, 2010
Eisai debuts online resource for cancer nurses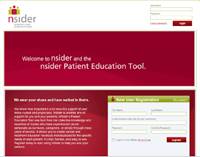 Eisai launched an online resource for nurses treating cancer patients. The resource, called NSider, lets nurses create customized educational packets for individual patients, which can then be emailed directly from the website to a patient, or printed out as a PDF.
The NSider tool was created in collaboration with a team of oncology nurses comprising the "NSider steering committee," which includes Katie Sargent, a hematology nurse clinician at Indiana University's Simon Cancer Center. "The sheer volume of information available to patients can feel overwhelming and impersonal," said Sargent in a statement. "NSider helps make it possible for patients to receive educational material tailored just for them, based on their individual needs and challenges."
According to the statement, NSider "does not promote any particular brand or product." Eisai representatives were not immediately available for comment. The company lists nine oncology products on its website, including Aloxi and Salagen, both of which are indicated for symptoms resulting from chemotherapy or radiation.
Nurses using the NSider site can create educational packets from scratch by selecting individual pages, use preexisting packets on common cancer types like breast cancer, colorectal cancer, lung and melanoma cancers, or formulate new packets using a wizard tool, which asks about a patient's disease phase, tumor type, treatment used, side effects, and for whom the packet is intended, a patient or caregiver.
The website does not require personal information to register, beyond a name and email address, although the site's terms of use stipulate that "Eisai may sell or share non-personal information with third parties," and personal information voluntarily given can be shared with Eisai's "worldwide affiliates, business partners or others who work for us such as service providers, vendors, contractors and agents."
Scroll down to see the next article