March 17, 2014
Eliquis enters the DVT business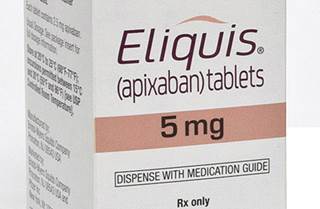 Slow-to-build blood drug Eliquis got a potential market boost Friday when the Food and Drug Administration approved the medication's use as a deep vein thrombosis preventative measure among knee- and/or hip-replacement patients.
The blood clot, known as DVT, can also cause a pulmonary embolism, which means that a blood clot, usually in the lower leg, has broken off and migrated to the brain. Partners Bristol-Myers Squibb and Pfizer say the potential patient pools include those receiving the 719,000 knee replacements and 332,000 hip replacements performed in the US every year.
The added advantage is that it adds to the promotional scripts sales forces can employ when talking about the blood thinner, whose stroke-reduction peers include warfarin, Johnson & Johnson's Xarelto and Boehringer Ingelheim's Pradaxa.
"The biggest hurdle in primary care has really been so far the entrenchment of warfarin," Giovanni Caforio, BMS president of US pharmaceuticals, told investors in July. Eliquis sales have not been overwhelming and Caforio said in July that BMS's marketing plan included showering cardiologists with full data sets and providing educational forums that would turn doctors into "believers and trialists."
The FDA approved the drug in late 2012, and last year's sales added $146 million to the BMS balance sheet. Since then, informatics company AdverseEvents reported that Eliquis patients had a relatively lower number of serious adverse reactions compared to Xarelto and Pradaxa.
This report did not sit well with Xarelto's maker, which contacted MM&M to point out that the study lacked "scientific validity for a number of reasons," including being approved for one clinical use at the time. Janssen wrote this was a problem because "it is not valid to compare one medicine with a single use to other medicines that have several clinical uses, different durations of therapy and far more patients using treatments."
Xarelto is approved to reduce stroke risk, to prevent DVT and PE after knee and hip replacements and to treat and prevent DVT and PE. It brought in $864 million in sales last year.
Scroll down to see the next article