March 26, 2013
Elsevier tool puts editorial imprint on news stream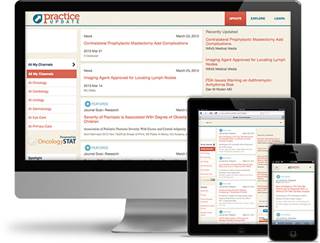 Elsevier is replacing its OncologyStat with a multidisciplinary news and research aggregator called PracticeUpdate that spans six fields and offers an editorial perspective on categories including oncology, cardiology, primary care and eyecare (ophthalmology and optometry).
OncologyStat has been folded into PracticeUpdate.
PracticeUpdate, which is paid for by advertising dollars, blends RSS features and editorial discretion. Members of the editorial board make their case for what should be featured, including news and research from across the professional publishing field—not just Elsevier content. They also add a takeaway that explains the piece and why board members chose it.
Specialty products VP Allison Risko said there's no upper limit on what can go on the tool's must-read list, but that this doesn't mean editors just make a list of articles they like and walk away. They have to defend their choices to the group at the weekly meeting where the editors whittle down the list of materials they think should be included. "We have people saying 'that's not relevant to practitioners,'" said Risko, citing a key filter for what gets into the news queue.
Beyond getting the ophthalmology and optometry editors to agree to house content under one category, PracticeUpdate also stands out in the publisher's portfolio in that it is one of several new projects the company is infusing with a responsive design spin.
Risko told MM&M that using responsive design made sense at the beginning, because "it's the sort of newest framework which allows us to be able to quickly and easily go to web apps or native apps," and that they wanted to give users "the biggest bang for the buck." This means the 30% of users who tap into PracticeUpdate via iPad, Blackberry, or other mobile service can go from screen to screen. Risko said one of the models was the Boston Globe, which is "a really good example of a site that came out in HTML5."
The more modern framework is also shaping its marketing approach. Risko said that while Elsevier will use traditional print ads to promote the product, Google+, Facebook and Twitter are integral parts of the promotional mix.
Readers can currently choose what specialties they want to read about, and how often they want to receive information. Options include a daily digest of top news items, weekly expert insights and a top-ten "stories of the month" listing, among others. Readers will soon be able to choose topics, for more refined input. The listings include an abstract if available, and link to the source journal.
Risko said PracticeUpdate will continue to refine how it tags and organizes information, based on clinician feedback and habits. The "eye care" category is an example of this because practitioners from both disciplines read many of the same articles. Risko said they told the two editors about the idea of merging the content and they went with it because it made sense. There are no new category mergers being developed, but Risko said insights like these could prompt new ones, such as in urology and oncology where there can be overlap.
Scroll down to see the next article