March 02, 2012
Endo rebrands to move beyond roots in pain drugs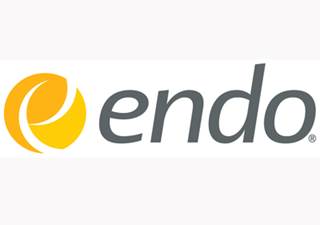 Endo is restructuring, bringing its four operating units under the same corporate roof and rebranding to reflect its diversification out of its origins in pain and urology drugs.

Formerly known as Endo Pharmaceutical Holdings, the Chadds Ford, PA-based specialty company is assuming a new name, Endo Health Solutions, reflecting its intent to expand out of branded and generic drugs into diagnostics, devices and services. There's also a new logo, by Chicago brand/design firm LEC. The gold icon "was designed to evoke the Endo masterbrand across all of the endorsed franchise brands through the use of a stylized letter 'e,'" said a company spokesperson, with lowercase letters reflecting "approachability and willingness to listen and collaborate rather than dictate."

Endo has also sought to move beyond its pain and urology heritage, expanding into endocrinology and oncology through its 2009 acquisition of Indevus, as well as neurology. Going forward, a corporate statement said, Endo will "approach therapeutic areas and disease states as care pathways, by identifying, developing and incorporating medical interventions (beyond the traditional chemical and biological treatments) and outcome data."

"With the right organizations in place, we have modernized our four distinct operating companies into one enterprise that reflects a powerful combination of compatible organozations aimed at delivering fully integrated healthcare solutions for the benefit of physicians, payers and patients," said president and CEO Dave Holveck. "Our philosophy of combining branded drugs, generic drugs, devices and services, including diagnostics and data, aims to create maximum choice and value for all participants in the healthcare continuum, and our strategy is founded in the balance of cost and benefit. A key focus for the next several years will be fully integrating these solutiosn into true, packaged offerings and filling the existing gaps in pain and urology management."

Endo's four operating companies include: device-maker AMS; HealthTronics, which offers electronic health records technology, practice management software, laboratory solutions and medical services; generics division Qualitest; and Endo Pharmaceuticals, which handles the firm's branded products, including Opana, Percocet, Fortesta, Lidoderm, Valstar and Vantas.

The name change is pending shareholder approval at the company's May annual meeting.
Scroll down to see the next article