October 06, 2009
Everyday Health launches virtual doctor tool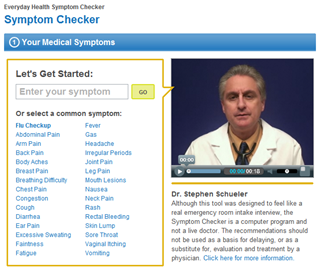 Everyday Health launched a tool allowing patients to query a video doctor by entering a symptom, and then responding to follow-up questions.
The doctor appearing in the
video symptom checker
is Stephen Schueler, MD, CEO and founder of DSHI Systems, the designer of the technology. The patient triage system created by the company – now present on Everyday Health's website – and has been used by the US Department of Veterans Affairs, and the University of Central Florida Student Health Services, according to DSHI's
website
.
When the tool opens, Schueler appears in a video, instructing consumers to enter a symptom into a blank field. Based on that initial input, Schueler guides the consumer through a number of health questions, some seemingly unrelated to the symptom, to produce a possible diagnosis. Schueler also provides a recommendation on whether an offline visit with a doctor is in order. Schueler's video segments are pre-recorded and triggered based on the consumer's text entries.
In addition to advising patients, the site tracks occurrence rates of certain symptoms and will alert public health officials via de-identified data, on the potential for any disease outbreak.
The symptom checker has the capacity to analyze over 3,000 symptoms across all conditions and age groups, according to an Everyday Health statement. The tool is similar to a symptom checker on WebMD's website, although the latter differs in that a real doctor's image isn't present. Rather, a
mannequin
is present for patients to click on, to identify symptom areas.
Scroll down to see the next article