February 07, 2012
Expanded use of Xgeva a longshot, analysts say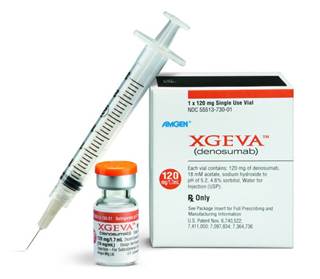 Amgen wants to extend use of bone cancer drug Xgeva (denosumab) into the prevention setting, but analysts, not to mention the FDA's own advisors, are not optimistic about its chances of securing the new indication. (See how they voted two days later.)
The FDA's Oncologic Drug Advisory Committee is set to meet tomorrow and issue a recommendation on whether the agency should allow broader use of the drug, which is currently approved to treat patients whose prostate cancer has already spread into their bones. In a committee brief released two days before the meeting, members appear to be leaning against expanding the drug's label.
Xgeva is a high dose of the denosumab injection, which Amgen also markets in a lower dose as skeleton-building drug Prolia.
With the panel tipping its cards on Xgeva pre-tumor use, analysts skewed toward bearish but say their outlook remains largely unchanged regardless of whether Xgeva fails to get the new approval. ISI Group's Mark Schoenebaum said in an email to investors that the negative tenor of the briefing documents comes as no surprise. "As was generally expected by us and much of the Street, the FDA is critical of the data," he wrote. Schoenebaum added that a rejection will not affect his outlook for the company, because his analysis never assumed the drug would get the OK for use in patients before their cancer has spread to the bones.
Jefferies analyst Eun Yang agreed that a fail in pre bone-metastases patients wouldn't require new math, writing, "We view potential downside from negative panel outcome/FDA rejection as already priced into the stock."
The agency's advisors said the benefits are a hard sell, mostly because studies show that using Xgeva preventatively merely delays the onset of tumors, and the additional 4.2 months may not be enough of a reason to justify a prophylactic use. The agency also red-flagged findings that show users suffered a higher rate of jaw degeneration because of the increased exposure to the drug.
The FDA also noted that add-on use may be meaningless, since Xgeva is already approved for cancer patients who run a high risk for fractures or are experiencing bone pain.
But the denosumab franchise, plagued by
slow growth
, could use a shot in the arm. RBC Capital Market's Michael Yee told Bloomberg the new use could boost Xgeva sales by as much as $500 million.
Scroll down to see the next article