August 15, 2013
Eylea outduels Lucentis for physician mindshare, survey shows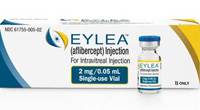 Although Roche's financials for first-half 2013 showed an uptick in sales of its wet-AMD drug Lucentis, the latest data from BioTrends Research Group shows that that 9% sales increase may not be enough to distance it from Regeneron's growing popularity among physicians.
According to BioTrends, Eylea's patient share, which stands at 26% of surveyed doctors' wet-AMD patients, outpaces that of Lucentis, which holds about 21% of the surveyed doctors' wet-AMD patients. That means Eylea has overtaken the older med just two years after approval, quickly eroding Lucentis' hold on the market, despite Roche's having five years to establish Lucentis.
This is in addition to competition Lucentis faces from off-label use of Roche's older cancer drug Avastin. Lucentis is approved for wet AMD and diabetic macular edema (DME), and Roche noted in its six-month earnings report that the DME indication was largely behind the 9% boost in Jan.-June sales.
Price has been a major downside for Lucentis, but it's not the only reason the drug is being pinched. BioTrends analysts say Eylea is more convenient for patients, requiring fewer injections for the first two years of wet-AMD treatment, giving it a dosing advantage over both Lucentis and off-label Avastin.
Physician preference is such that Eylea is "moving up in the wet AMD treatment algorithm," BioTrends researchers noted, while Lucentis is becoming the "typical third-line treatment option."
Demand for the Regeneron drug is such that the company has started to expand its manufacturing capability.
Although the move into DME has been furthering Lucentis' sales, early August news that Regeneron plans on filing an NDA for this indication this year means the two treatments are set to go head-to-head again. This is not strictly a price issue, either: Forbes notes that Lucentis has a fatality warning in this space that Eylea does not. Don't dismiss Lucentis yet, though. Novo A/S, an LLC of the Novo Nordisk Foundation, said earlier this year that it was sinking $125 million into a wet-AMD drug being developed by Ophthotech that the firms hope will establish a new standard of care. The key: Ophthotech's experimental drug Fovista is meant to be paired with Lucentis.
Scroll down to see the next article