August 25, 2014
FDA Cautions Consumers on Ebola Web Promotions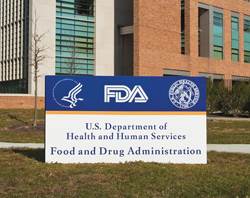 FDA says that it is seeing and receiving consumer complaints about products sold online that claim to either prevent the Ebola virus or treat it. An agency news release says there are no FDA-approved vaccines or drugs to prevent or treat Ebola.
"Although there are experimental Ebola vaccines and treatments under development," the release says, "these investigational products are in the early stages of product development, have not yet been fully tested for safety or effectiveness, and the supply is very limited. There are no approved vaccines, drugs, or investigational products specifically for Ebola available for purchase on the Internet. By law, dietary supplements cannot claim to prevent or cure disease."
FDA says that Internet merchants who promote unapproved and fraudulent products must take immediate action to correct or remove such claims or face potential agency action. It urges consumers who see such products and products to report them to FDA.
The agency cites its sister Health and Human Services agency, the Centers for Disease Control and Prevention, in stressing that "Ebola does not pose a significant risk to the US public."
However, it says, as in other outbreak situations, "fraudulent products that claim to prevent, treat, or cure a disease all too often appear on the market. The FDA monitors for these fraudulent products and false claims and takes appropriate action to protect consumers."
"Ebola is the cause of a viral hemorrhagic fever disease," FDA cautions, listing symptoms that include fever, headache, joint and muscle aches, weakness, diarrhea, vomiting, stomach pain, lack of appetite, and abnormal bleeding. Symptoms of the virus can appear anywhere from two to 21 days after exposure, but are most commonly seen on days eight to 10.
Meanwhile, the US doctor and nurse who were evacuated to an Atlanta hospital after they contracted the Ebola virus while working in Liberia were released last week. Kent Brantly, 33, and nurse Nancy Writebol, 59, who worked with religious charities in the West African nation were both given ZMapp, an experimental drug never before used with humans.
According to the World Health Organization, Ebola has taken 1,350 lives in Liberia, Guinea, Sierra Leone and Nigeria since the outbreak was detected in March.
Scroll down to see the next article